Tons of digital marketing tools exist to generate business online. A digital marketing expert picks the right tool for the job. You don't unscrew a nail with a chainsaw (at least when you're sober). Below is what small businesses must understand about the key digital tools available.
Infographics - Use when you want to explain something with visual aids. Label a map instead of taking 500 words to describe where all the countries are. Infographics are great to explain your competitive advantages, inform about what you do, how you do it and the benefit of your product/service. Plus it's easy to share as a sponsored ad/post/tweet in LinkedIn, Facebook or Twitter.
A good example is an infographic of this post.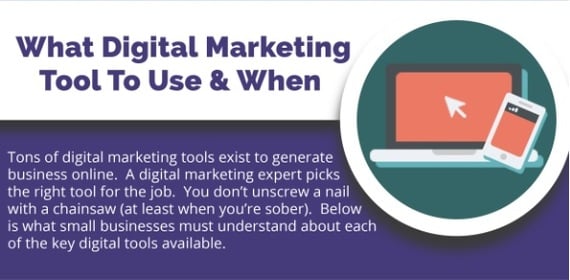 Bing Search - Lots of people use Internet Explorer and Bing is the default search tool. Several verticals like financial services do well on the Bing Search network. The ads are very cheap (fewer businesses advertise). That means greater ROI if your campaign goals are clear. Internet Explorer is still widely used on most office and family machines. Bing ads also appear in Yahoo! Search. Use Bing Search if you promote/sell financial services or are looking for cheap traffic.
Streaming Services (Hulu, Pandora) - Both are meaningful substitutes to traditional TV and radio. Hulu and Pandora guarantee impressions in specific demographics, geography and interests. You can't skip their ads like you can on live TV, radio or YouTube. If you are already on local TV and radio then allocating a part of that budget for far more targeted, measurable and guaranteed impressions makes sense.
Google Search - Advertise on search results relevant to your product or service. Powerful and productive if you know what search terms (keywords) you want to focus on. A waste of money if you don't since Google Search ads are competitive. Instead of bidding on competitive keywords try focusing on specific phrases or geographies and bid aggressively. This won't show your ad often, but will show to the most meaningful searchers when it does. Resulting in more clicks. The riches are in the niches.
LinkedIn Ads and Social Selling - LinkedIn is the king of B2B sales. Use a Premium LinkedIn account and these tactics to reach decision makers at any company. Communicate with niche businesses (ie; marketing execs for restaurants in Toledo) by targeting that group with advertisements and relevant information. Use this tool if you are in the B2B realm, need to target specific industry verticals and communicate offers directly to decision makers.
Marketing Automation - These apps help develop a marketing strategy based in online tools. Setup a process map and these tools automate follow-ups and lead nurturing. Automatically email contacts updates, follow-up based on their responses and stay front of mind. You need to get contacts and email addresses before you start.Read this for help. Leverage the on-boarding support most marketing automation companies give you at signup. Evaluate the tool's value by getting the provider to immediately setup a campaign.
Facebook - Use Facebook to share interesting content to current/potential customers. Say you sell insurance. Share tips on how to negotiate deals and any current offers. Facebook's paid options allow you to push your content to viewers outside of your influence. This helps expand your reach and generate interest. Facebook is ideal to build your contact database for marketing automation. Use free contests and promote giveaways to get names of people interested in your offer. The insurance agent can offer a free consultation to people that like their page. They now have a new lead and can feed that data into their marketing automation software.
Twitter Ads - Twitter's paid options are the new kid on the block. They represent another way for content to be shared. Twitter enables you to pay for retweets/shares of your content which will help people see your good content. You can also use Twitter to generate real time business like Papa Johns does in Dallas. They have keywords in Twitter tracked related to people in Dallas that are hungry for pizza, wings etc (easy to do). Then, they respond to those tweets with a coupon code for 50 percent off their order. Naturally, those people may not reply, but since these are open Tweets anyone seeing the conversation can use the promo code.
eCommerce - Use eCommerce principles in all digital properties. Offer something online that people can say yes to - an appointment, consultation, seminar, webinar, ebook download etc even if you don't sell anything online. Setup an eCommerce website to move products online if you have products to sell. There is a lot of free (Opencart, Woocommerce, OsCommerce, Magento) and paid shopping cart software available (Shopify, Volusion) depending on your budget. Any will suffice. IntegrateGoogle Product Listing Ads to boost online sales from your site. Submit your site and products to Google (a simple process) and set a daily advertising budget. The product's picture, price and a link to your website appear in Google search results and on Google shopping if someone Google's a product you sell.
Google Display and YouTube Ads - Use these platforms to generate awareness for your product/service. The engagement of these ads is low -- 1 out 1000 people on average click on them. Getting Google Display and YouTube Ads to 'convert' into leads is difficult, but possible with compelling communication. You need to exaggerate what you want ad viewers to do -- sign up for your hopscotch contest, test drive a Vespa, download your Indian restaurant finder app etc. Use some form of targeting -- geography, interest or demographic to ensure the right people see your ad. You don't want your mixed martial arts ads showing on home and garden websites.
Remarketing Tools - Ever been car-shopping online and notice the next time you're on YouTube you see a commercial for cars? That's remarketing and it's done often (particularly in automotive digital marketing). Facebook, Google Display/YouTube Ads and Twitter allow you to market to people that have already visited your website or websites like it. Those platforms then show your creative or ads to those people when they come back to their sites. Use remarketing tactics if your product or service has a long buying cycle and it takes substantial effort to nurture leads. Large ticket items - cars, airline tickets, software etc; should leverage remarketing tools.
App Development - Build web and mobile apps for specific purposes only. These are great if you need to solve a particular business pain. If your business uses a system that is customized for you then you should extend its usage to an app (so that the database loads/renders quickly). For everything else responsive/mobile friendly pages will suffice.
Analytics - Lots of tools are available to analyze your digital marketing performance. Never start a campaign without mechanisms to track how many times the campaign results in new business opportunities (conversions). Most advertising mediums give you the ability to track conversions. Definitely take this further and see how those conversions (ie; ebook downloads) translate into sales meetings, closed deals and deal size to see if the campaign generated a return. Also use this data to refine your next campaign.
This list is exhausting, but not exhaustive. There are plenty of tools available. Now that you know what each tool is used for you can fix a marketing campaign and pull in the right tools.
Just put on your safety goggles.