Two of the major eCommerce solution contributors, Shopify Lite and Snipcart have made it super easy to add eCommerce to any website. Straightening the wrinkles in the eCommerce website building, both Shopify Lite and Snipcart easily convert your static website into an eCommerce store. This blog is a straight-ahead Snipcart vs Shopify comparison blog.
Shopify Lite
Shopify Lite is a Shopify buy button that you can implement on your website by copying a few lines of code. Behind that button, there's a fully-functional checkout process.
Shopify has done a great job at the checkout process and ensured that everything works flawlessly for all users. The usual Shopify pricing plan starts @ $30/month, including hosting and everything else for your eCommerce website. But this $9/month Shopify buy button is also available to add to any static website. So, if you have a website running on WordPress or HubSpot, you can simply add this buy button from Shopify. And, on the other side of the button, you get Shopify's reliable checkout process.
The process of adding e-commerce to any website works like this
You build your website on any Content Management System you like. It doesn't necessarily have to be an eCommerce platform.

Build single product pages, multiple product pages, category pages, etc.

On the single product page, you paste the Shopify Buy Button code

That's it; you've successfully created an eCommerce website.
Shopify Buy Now Button Customization Options
The Shopify buy button offers major customization options on all levels, from layout to actions.
Button Style: Button text, color, transition, shape, size, button text font, everything is customizable.
Button Actions: Add product to cart, direct to checkout, and open product details are the three buy button actions you can choose.
Add to Cart action allows the user to add the product to the cart. The user will also have the option to choose the quantity of the products.
Direct to Checkout takes the user to the checkout page, where the user fills in the contact information, shipping address, and payment information.
Open Product Details take the user to a product page with more product details. From there, the user goes to the checkout page.
If you have less than 5 to 10 products to sell, then the Shopify buy button gives you the bare essentials of an eCommerce website at a cheap price.
In Addition to the buy button, Shopify also offers you the shop button for Facebook. You list out your products on your Facebook page, add the Shopify buy button, and your Facebook followers buy your products directly from your Facebook page. This, you can say, works as an additional storefront for you.
Shopify Buy Button
Pricing Plan 1 (if you are using Shopify payments): $9/month + 2.9% + 30 cents on every transaction.
Pricing Plan 2 (if you are using a third-party payment gateway): $9/month + 2% per transaction.
Snipcart – Add eCommerce to Any Website
A much smaller provider than Shopify, but it gives tough competition to it in terms of features and pricing. Unlike Shopify which is focused on providing multiple eCommerce solutions to users, Snipcart focuses on only one solution, and that is 'providing awesome checkout experience'. So, they have put everything in it. For merchants who have limited products to sell online and don't want to complicate things, Snipcart is a great option.
Coders, front-end designers, or people with very limited coding knowledge all can implement Snipcart to their static website. Shopify's code is a little bulky if we compare it to Snipcart's. As long as you know where to put the codes, you are good. The Snipcart installation process is simple though.
Snipcart's test version is always free. You can first check functionality in the test version, once everything is working fine, pay the fee, and make it live. The development section is free, always, which is very convenient for the users.
In Shopify, you can pull up the image, title, description, price ultimately all things a product listing needs or you can simply add the buy button. In Snipcart, you only have the option of a buy button, the rest of the things you have to add yourself. Some owners like the flexibility that Snipcart offers, while some want everything managed by the solution provider i.e., Shopify.
Once the user clicks on SnipCart's buy button, the cart pop-up appears. The users fill and check the cart's content, enter the billing address, approve the payment method, and confirm the order. Merchants can customize the whole layout of the checkout popup.
Snipcart not only covers the buy button for physical goods, but it also offers solutions if you have a subscription model for business and digital goods. And, that is included in the same package.
Here's what Snipcart's merchant dashboard looks like. The options for subscriptions and digital goods are on the left sidebar. All the options that are useful for merchants are on the left sidebar.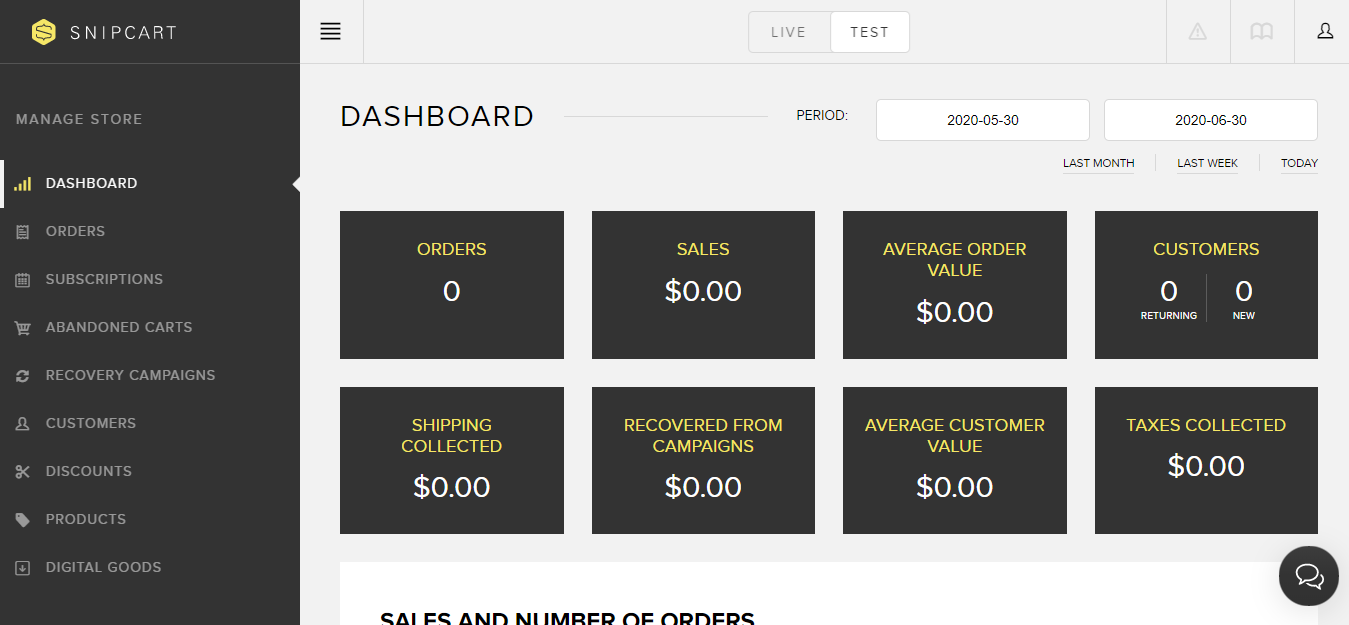 Snipcart's store configuration options are on the right sidebar. The dashboard is nicely designed for easy access to options.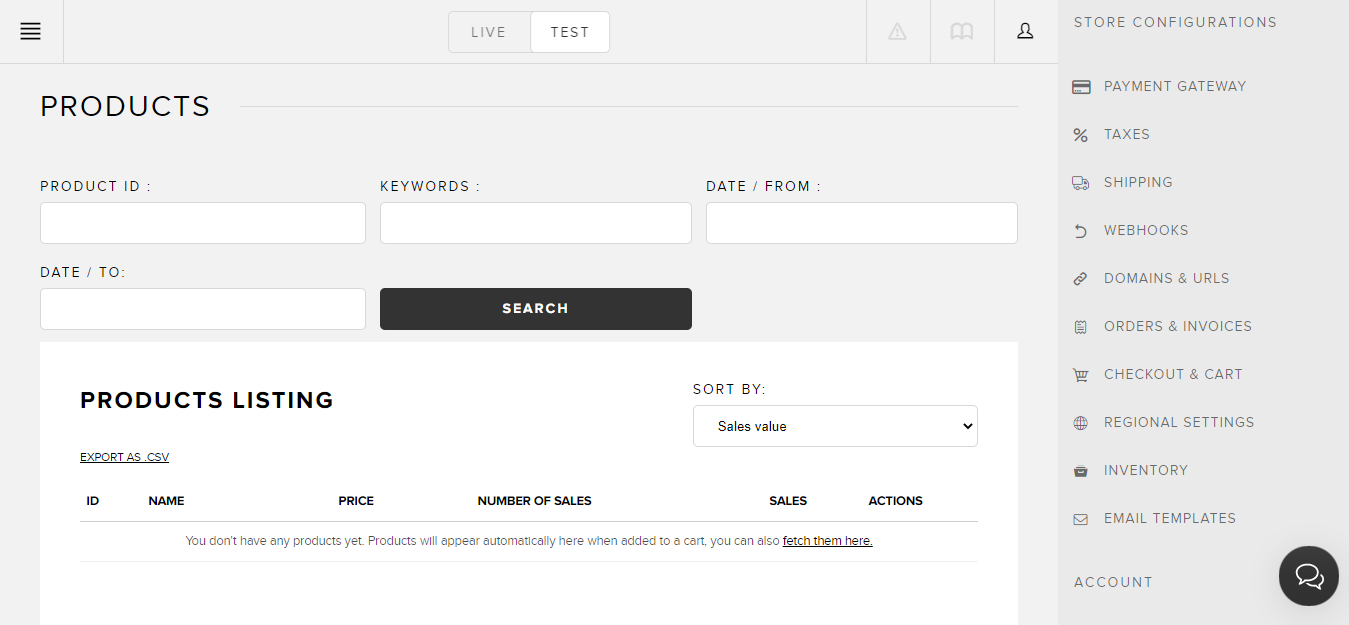 Snipcart's features and functionalities are neck-to-neck with Shopify. However, the price is significantly lower than that of Shopify.
Snipcart Pricing
Standard Snipcart Pricing: 2% + 30 cents per transaction (with the minimum threshold of $10/month)
Custom Snipcart Pricing: Contact Snipcart for customer pricing plans
If you choose to run an eCommerce store specifically on HubSpot using any of these two solutions, do check out our blog on Cost to Run an eCommerce Store on HubSpot.
Summing Snipcart vs Shopify
As both these products target a similar market, the competition is really close here.
Pros of Shopify
As Shopify is a mature and larger brand, customer support is impeccable.

Option to Sell on Social Media
Cons of Shopify
Only for physical goods, no subscription model available.

Missing analytics and abandoned cart follow up
Pros of Snipcart
Supports subscription model, physical goods, and digital goods

Automatic abandoned cart follow up
Cons of Snipcart
Social media selling is not available
Our Pick
Snipcart – Except for the social media selling feature, it offers much more than the Shopify buy button in the same price bracket.
Being one of the leading eCommerce development agencies in Canada, we are here to help you decide to choose the right platform for your e-commerce business. Get in touch today and get the best eCommerce web development services.