Modules are the building blocks for any HubSpot website. The drag and drop option lets you design a template and a page without any hassle. I highlighted the marketing features and the respective plugins you need in your WordPress website for growth in the previous blog. Today, I am listing the default modules you need on your HubSpot website for better growth.
1. Call-To-Action
Call-To-Action is that steppingstone that allows your website visitors to move further in a professional relationship with your brand. Whether it is about downloading a free ebook, signing up for a free webinar, subscribing to your SaaS product, or anything else, Call-To-Actions are the gateway for conversions.
Without proper CTAs on your website, your users will just keep on surfing your website without taking any initiative for a strong business relationship with your company.
Placing the right CTAs in the right place indeed increases sales and grows your business through the website.
You can always change the color, text, and style of the CTA button and save it for future use. In fact, changing the CTA button elements are a standard procedure during A/B testing. If you are not getting the desired clicks on the button, try changing one element at a time to see which one is performing best for you.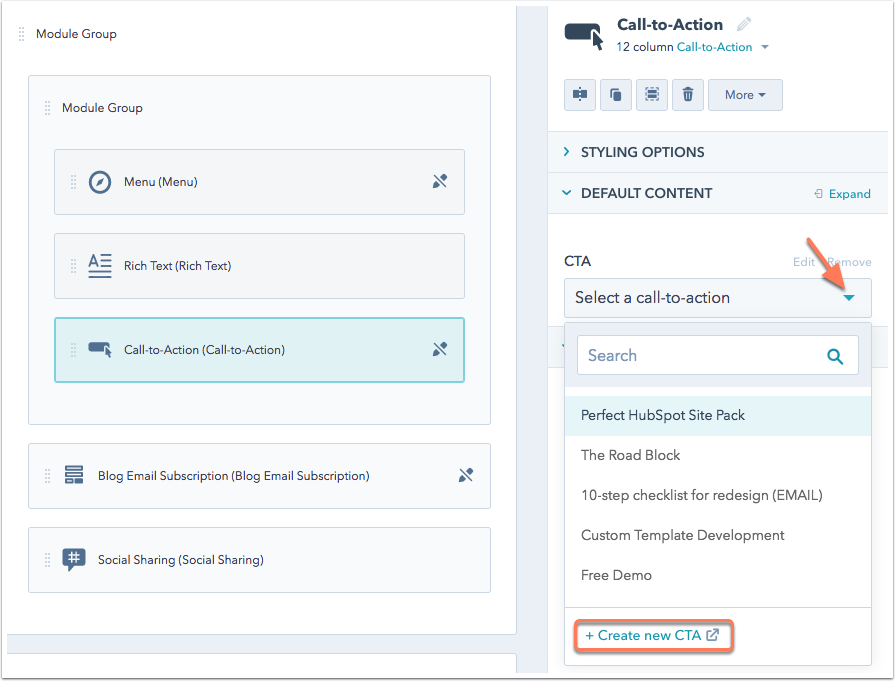 source
2. Follow Me
Follow Me module is applied where you want people to follow your social media channels. Ecommerce platforms often allow their users to make the purchase from the social media channels. Even Facebook gives the 'Buy Now' button to shop directly from its platform with ease. Brands can have a dedicated sales page on Facebook.
The Follow Me button opens a door of opportunity to increase sales from social media channels. If not eCommerce, you can still encourage people to stay connected with your brand on those channels. They might visit your website daily, but they do visit their social media profiles daily, capitalize on that.
Another Version of this Modules Is 'Follow Me – Email.' This works similar to the Follow Me button but in the email templates. When you build an email template using the drag and drop option, you can insert this Follow Me – Email button in the email to allow the email recipients to follow you on social media platforms.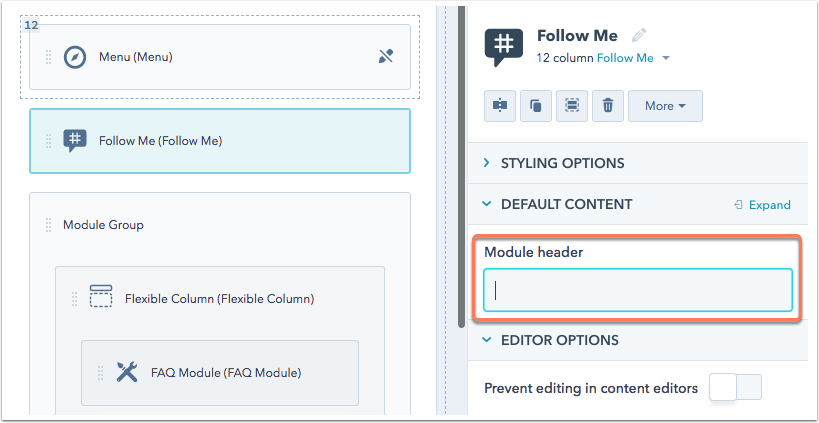 source
3. Form
If it was WordPress, I would have recommended the WPForm plugin straight, but here we have HubSpot's default Form module to add a form to any webpage you want. You can customize form title, form type, form fields, post-form submission action, thank you page after submission, form submission notifications, sending follow-up emails, among other things. This all-in-one module covers lead information capturing, lead nurturing, and follow-ups.
Based on the content you gated, you can set up form fields, which go straight in the contact properties. Blog page, landing page, website service page, place the form wherever you want. Once saved, the forms are reusable.
It is suggested to keep as few form fields as possible. Adding more fields will only delay the process of subscribing or buying. Don't ask for everything in the form. Mention only those questions that are enough to deliver the product or initiate communication.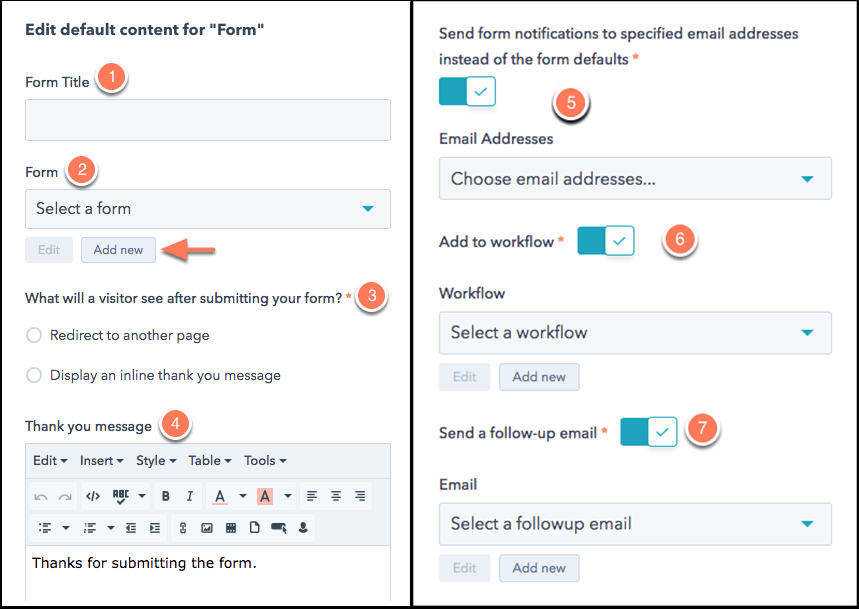 source
4. Social Sharing
The simple yet effective social sharing button lets people share your website blogs or any other content resource on which you have applied the social sharing button. HubSpot has kept default social sharing button icons, but you can replace them as per your website design.
Mobile phone users are always logged in to their social profiles. When they click on the share button on your website, an automatic post is generated along with the content link. Users can share content in an instant.
Social sharing on your website content adds to the positive vote for your website rank. You may not get 'Do Follow' links from certain social channels, but you get a good ranking score. Plus, you also get the data on which profiles your content got shared.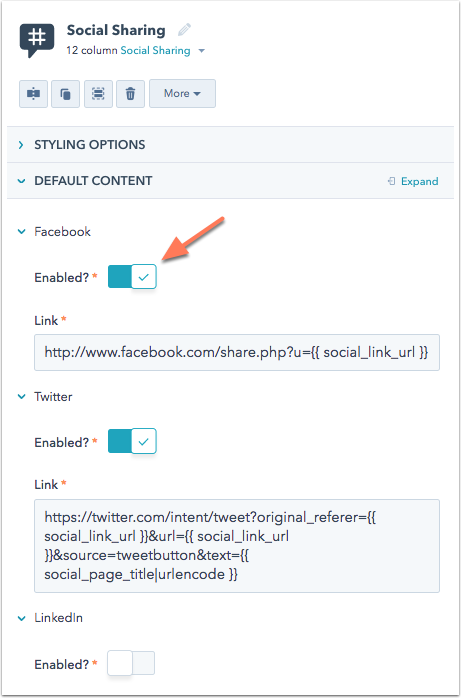 source
5. Language Switcher
Language Switcher is perfect for businesses running in countries that don't speak English. Adding personalization of language makes it easy to connect with foreign language speaking countries.
Users can switch between the two languages they want. The language options will be the ones that you had selected while putting the module on the page at any point in time.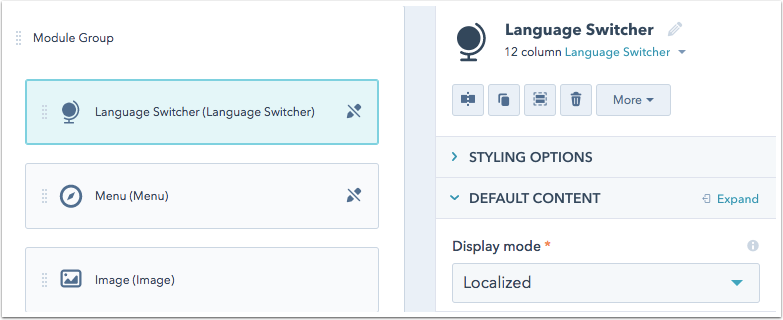 source
6. Blog Comments
It still works; yes, it does. See, not every blog will get hundreds of comments. Let's be honest, that's not going to happen for everybody. But, a few good posts can and will entice people to share their thoughts.
There are companies running blog commenting campaigns. And, those comments won't be spam. Those will be genuine comments as the companies want to be part of that marketing cycle. By receiving comments on your blog, you will get some brownie points. We, at Computan, also get a few comments under the blog from people looking for WordPress development or HubSpot development services. We have a few clients in our lift that we got from the blog comment section.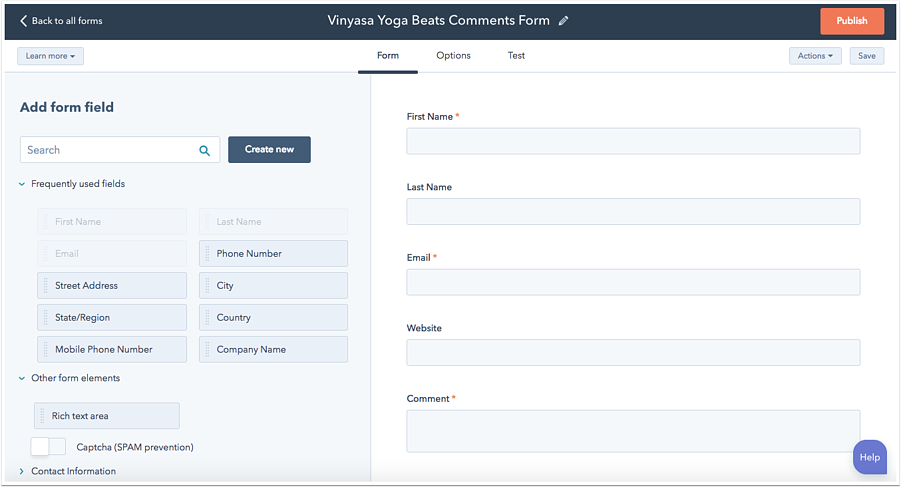 source
7. Rich Text Module
Talk about beautiful text on the webpage for a better user experience. Bold text or thin gothic font, whatever meets your branding guidelines, the Rich Text Modules is there for you. It can be applied to any page and at any section. Heading, text body, bullet points, hyperlinking, among other formatting options, are available in Rich Text Module.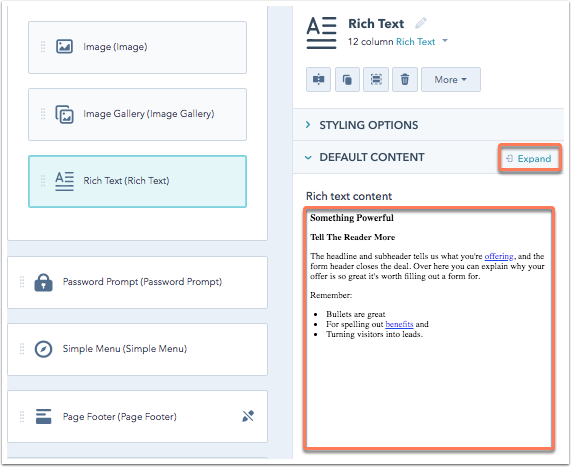 source
Custom Modules
Custom Modules is where you up to your marketing game to many levels. There's no limit to custom modules. Marketing elements that are not covered in the default section can be built through custom modules either to attract users to your websites or engage and retain them for long or get their contact information.
Want to get an expert opinion/advice on custom modules or defaults best suited for your website? Get in touch with our HubSpot experts today.