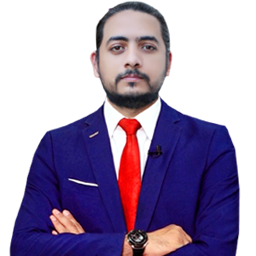 Meet Aamir! He's a happy, friendly front-end WordPress developer who works late at night. He also has a rock-star style! In this installment of Behind The Coding, Aamir talks about his amazing family, his 'second' wife, and why he was the most famous person on his street.
Hi Aamir! What are the last 3 things you Googled?

Grandfather's house on Google Map

Why did you Google your grandfather's house? Were you going to visit?

I wanted to visit his old house and our family home. I feel very comfortable seeing my dad's pictures.

That's nice, Aamir! What else were you Googling?

I was looking for baby girl dresses for my daughter Haniya. She's 7.

I know you have a few children. You were only going to get clothes for the others?

I already have outfits for my other kids (Zainab and Fahad)! You are going to get me in trouble Sajeel!

Not intended, not intended Aamir. What else were you Googling?

I was Googling some fundamentals in backend development. I am a front-end developer right now, but I am eager to learn backend development and become a full-stack developer.

That's a good goal, Aamir! When did you last work after hours to solve a hard problem?

I usually work late. But the other day I was working extremely late fixing website issues and updating plugins.

Who are 3 people you'd like to have dinner (dawaat) with at the same time and why

The first would be to have dinner with my late father.

Your father meant a lot to you, didn't he?

He was my idol and my everything. He taught me how to learn, how to speak, and how to stand on my own. He was a musician and played piano, guitar, tabla and sang very well.

That's amazing Aamir! Do you play any instruments?

No, I don't play any, unfortunately.

Who else would you have at dinner?

My lovely wife. She is very humble and supportive. She's also a terrific lawyer.

Your wife is a lawyer? I didn't know that

She articled and trained in the UK for several years and is now a family and criminal lawyer. She works in the High Court and has won many cases there.

That's incredible, Aamir! You are blessed with a great family.

She is incredible, for sure, and yes, I have many blessings from my family.

Who else would you have at dinner?

I would also have the one and only Sajeel Qureshi for dinner.

Oh wow. Why Aamir? Why me?

You gave me this opportunity and supported me with work. You allow me to do my best and provide for my family. I would love to have a personal dinner with you.

You are too kind, Aamir. When was the last time you cried tears of laughter?

Five months ago, on a short family trip. We had so much fun spending time together.

Another sign of a great family life. What do you love about coding?

I love everything about my work, Sajeel. Coding is like a second wife to me!

Sshhh…you should keep that as a secret.

My wife already knows that coding is my second love.

Hahaha! When was the first time you saw a laptop/computer

I was 7 or 8 years old. My friend showed me Windows Paint, and I was so excited. Then I went home crying.

Crying? Why?

I came home crying and told my father, 'I want a computer.' He said, 'You don't know about computers, Aamir.' I said would learn. Then he said he would buy me a computer if I got good grades.

Did you get the good grades?

I got the grades and then the computer! It was a Pentium from the market. When we got home, a friend helped me set up a computer. Then I went to his house, and he showed me the Internet. Then I went home crying again.

Hahaha! Why now?

My dad got me Internet access because I had a computer but no Internet access. When I got the Internet, people would come to my house and watch me use dial-up Internet. I was the most famous person on the street! They would come to watch me use the Internet!

Hahaha…what is something your teammates don't know about you?

They don't know that I am a compassionate person. Whenever I get negative feedback, I cry a little. They also don't know that I go to my father's grave every day to pray and talk to him. It's a 5-10 minute walk from my house, and I love to chat with him in the morning.

That's a nice way to honor him, Aamir.

Yeah, I think so too.