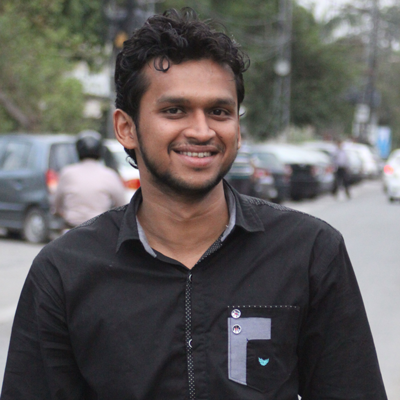 Meet Asim. He's a HubSpot-certified Front-end Developer who knows his way around many different front-end technologies, languages, and frameworks. He's also a certified night-owl! In this installment of Behind The Coding, Asim flexes his movie muscles, dishes on his favorite type of music, and three special friends he spends much time with.
Hi Asim! How are you?

I am good Sajeel. How are you?

Good thanks! What are the last three things you Googled?

Mystery movies with high ratings.

Ah! So you are a mystery movie fan

Yup.

What are your 3 or 4 favorite movies?

It will be hard to come up with the names of all the movies I like.

How about this, what are 3 or 4 movies you insisted your wife watch after you guys got married?

Ah, that I remember. The Martian, Interstellar, Invisible Guest, Now You See Me, Salt, Shutter Island. These are classics.

They certainly are. Have you seen Tenet?

No! But I will watch it.

Ok, what else have you been Googling?

Nusrat Fateh Ali Khan

You like Qawalis (Classic Islamic poetry in music form)?

Yes, very much. Nusrat Fateh Ali Khan is the best performer in this type of genre of all time. I don't think there will be another like him.

What about his nephew? Rahat Fateh Ali Khan?

He's good too. But not Nusrat Fateh Ali Khan

What is the third most recent thing you Googled?

Loading jQuery after document rendering.

What happened?

Actually, I was up late last night doing a deployment of a new site. The jQuery wasn't loading. I spent a little time trying to figure out why and then I went to Google. I switched when the jQuery loads to be before the page loads instead of afterward.

Did that work?

Yes! It did.

When was the last time you worked after hours to solve a complex problem?

We just talked about it! Last night, to solve that jQuery issue.

Who are 3 people you'd like to have dinner (dawaat) with at the same time and why?

3 Childhood friends – Usman Khaleel, Syed Butt, and Adnan Meem.

When did you meet them?

We met when we were 11.

And you are still friends?

Yes! Absolutely. We are friends, and neighbors and still meet each other quite regularly.

What do you guys do together?

Everything! Video games, movies, Usman has a nice office. We sit in there, talk for hours and eat junk food. It's a great time.

Where do you go to get your junk food?

Johnny & Jugnu. Great burgers.

When was the last time you cried tears of laughter?

The Hangover movie….long time ago!

What is your favorite part of that movie?

There are too many. Mike Tyson and the tiger were the best parts to me!

What do you love about coding?

That is a lovely question.

Hahaha! Glad to hear that!

I love to solve problems, but I also love product launches.

Interesting! That usually stresses people out.

Pressure is interesting. I love multi-tasking.

So the messaging, communication with teammates, checking on the fly

Yes absolutely. We did a launch yesterday. We set up a Zoom War Room and just were in an 11-hour call deploying. Sometimes we'd go out, take breaks, etc., but kept the Zoom line open. Suleman (Muhammad Suleman), our team lead, is a fantastic human being. He keeps us all on target.

He certainly is. When was the first time you saw a laptop/computer?

I was 12 when I saw a desktop for the first time and was totally amazed. I wanted to touch it and play on it, but students weren't allowed to touch it. I told my parents about it and pleaded with them to buy me one!

And did they?

They did. It was 2 years later, though, but I did! I was so excited and got a game from my friend.

What game did you get?

Freedom Fighter.

Classic game. What is something your teammates don't know about you?

I'm a hardcore gamer. Dota 2 (Defense of the Ancients 2). It's an RPG that I play with Syed, Usman, Adnan.

The 3 childhood friends?

Yes exactly! We have a lot of fun and can play for 6-8 hours in the evening straight.

How do you manage that? You have a family.

I am blessed to have a great wife that allows me to do that. My two kids (Umar and Yusra) are really great too.

Family is everything.

Definitely.