If we look at podcasting from a content asset's angle, then it is a good content asset that is somewhere between written content and videos. According to The B2BHouse data, "monthly podcast listeners in the 18 countries will rise by 15.5 percent to 383.7 million. The number of listeners will increase to 424.2 million next year." The statistics show that it is a popular content asset as well. Computan jumped on the Bandwagon and started its own podcast showcasing marketing failure stories from the marketers.
The Podcast - The Sock Talk (we will get to the name later) brings out the stories from marketers where they made an error that almost cost them the project and what lessons they learned from it. That's the crux of it. The name Sock Talk emerged because the sock puppet Gill is the podcast's host. He asks the marketers (guests on the podcasts) about their marketing failures through a series of questions and the lesson they learned from that mistake. All in all, it is a good learning experience for the listeners. Computan hosted its podcast on HubSpot website. Huzaifa Ahmad, PHP Laravel Developer, along with his team members, built the marketplace app for it and hosted the podcast on Computan's HubSpot website. More on this at the end of the blog.
You, too, can have your podcast as it is so easy to do it nowadays. Lots of podcast hosting providers are available in the market to make things easy for you.
The list is in no particular order
1. Buzzsprout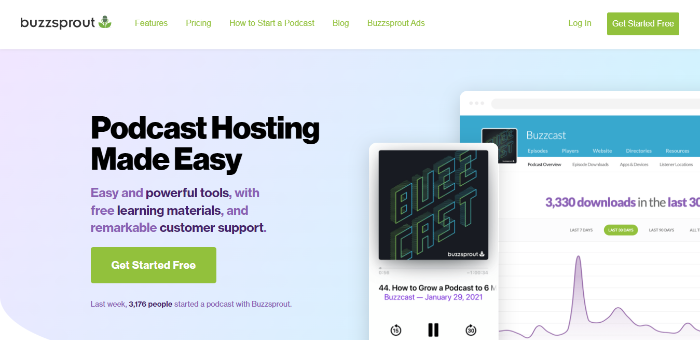 I would recommend Buzzsprout if you are a beginner looking for an outstanding podcasting platform. They provide a user-friendly analytics dashboard that predicts the number of listeners each episode will have in its first 90 days. You can also see countries from which your listeners are tuning in for a better understanding of your audience.
The ability to upgrade to 128k stereo optimization for better sound improves audio quality. Your episodes will have excellent audio quality because of automatic episode optimization. It also offers an affiliate marketplace and the option to add team members.
2. Transistor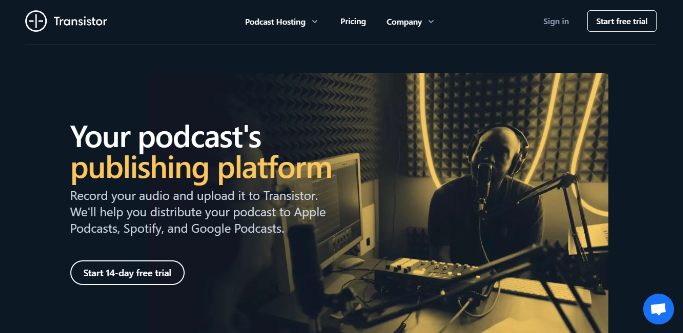 They are renowned for giving their podcasters access to integrated analytics and all the tools necessary to expand their viewership. It has the potential to host an endless number of shows. You can view trends and statistics on their dashboards, including the average number of downloads per episode, subscribers, and overall downloads.
It also showcases unique episode images on your podcast's website so that viewers can preview each episode before listening. If you are a multi-show host, you can create both private and public podcasts under the same account. You can explore while an episode plays without interruption.
3. RSS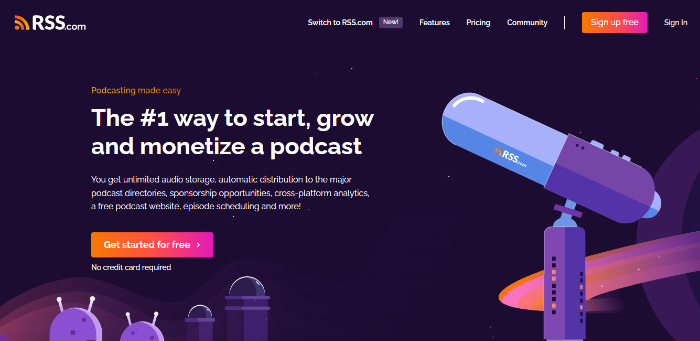 If you want limitless storage, strong analytics, and a podcasting website that works with your recording, RSS is for you. With the help of these features, you can be sure that your podcast platform will be capable of handling future growth.
It provides various tools that simplify managing your podcast and interacting with your audience, like episode scheduling and social media integration. Podcasts can use RSS's numerous partnerships to increase their audience and find the ideal sponsor with a quick and simple setup. Everyone will easily find your show if you customize your RSS feed address.
4. Captivate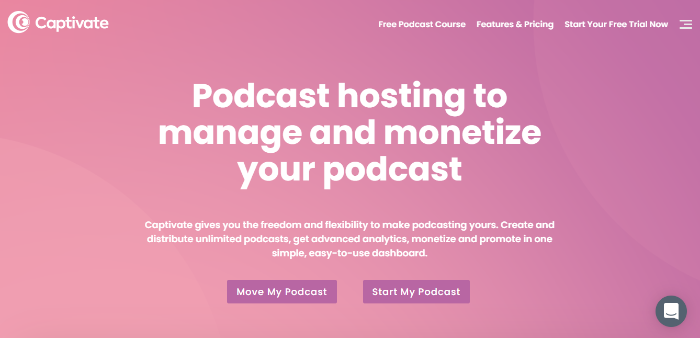 The analytics used by Captivate is advanced and easy to understand. It has built-in CTAs (calls to action) to assist you in guiding viewers wherever you want. Any number of people can be added to the team. Batch uploading, smart UI features like the default schedule time, WordPress integration with their unique plug-in, and many useful features are available.
A fantastic and convenient podcast sponsorship kit PDF that allows you to highlight current episodes and displays download statistics. Amazing podcast player and website are available in Captivate. It also offers a mobile-friendly website.
5. Castos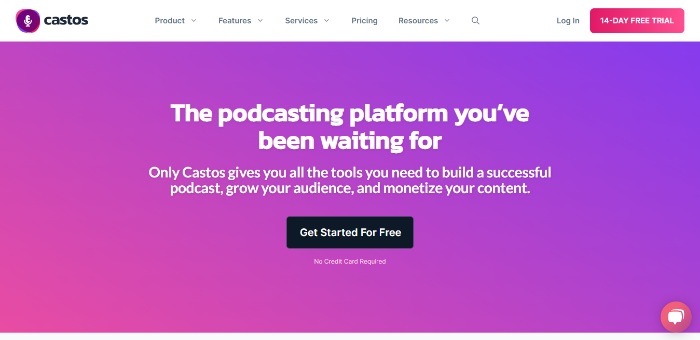 Castos Podcast Hosting integrates seamlessly with WordPress and offers various great features. They are the owners of the Seriously Simple Podcasting WordPress plug-in, which allows you to control your feed and publish brand-new episodes directly from WordPress.
You can track the success of your podcasts with quick-to-understand statistics on overall listeners, popular episodes, audience demographics, listening habits, etc. Every podcast you create with Castos gets its own active website, making it simple for listeners to subscribe, search for episodes, and interact with you on social media. It makes managing your shows easy since it is quicker and seamless.
6. Podbean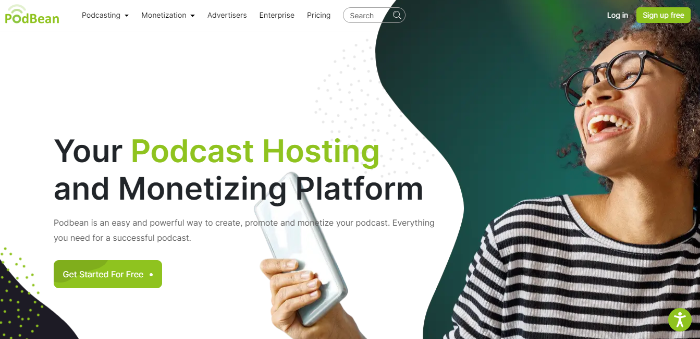 It is great for both novices and professionals. You can modify the color scheme to match your brand and use a different podcast logo instead of the default one. You can quickly start uploading audio and video podcasts with just a few clicks. You can efficiently distribute shows to a huge audience by integrating with major podcasting platforms.
With the help of Podbean's advanced podcast analytics, you can identify how your podcasts are doing and better understand your audience. You can share your podcasts to major podcast directories using embeddable players and social sharing tools.
7. Redcircle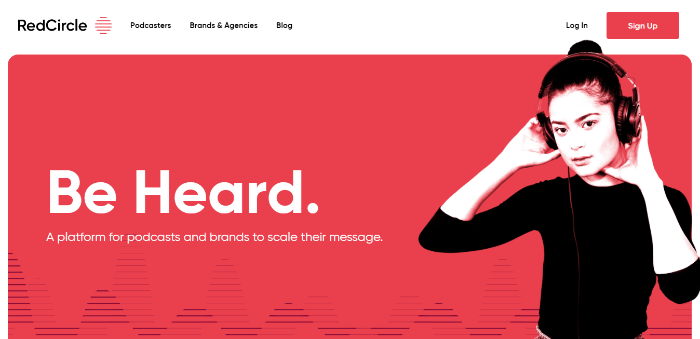 It has a user-friendly interface that enables you to launch your very own podcast quickly and easily. This is one of the best platforms for podcasters since it allows you to modify and control your content. You have complete control over when, how, and to whom you choose to release your content.
It enables you to enlarge your podcast's audience, find new listeners, and monetize your content. You can start making more money right away with the help of robust monetization tools. Accept listener donations, promote using RedCircle Ad Platform (RAP), or charge for subscriptions to premium content.
8. Podcastics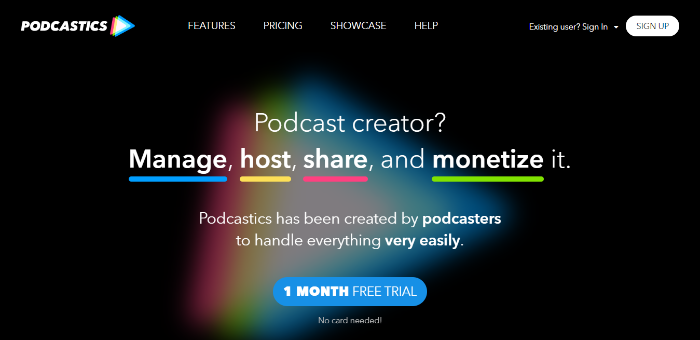 You can host, distribute, and make money off the content of your podcast with the help of Podcastics. You can deliver your podcast to listeners in every continent using a CDN (content distribution network). Utilize sponsored member purchases and ad placements to generate revenue. Every website and the emerging audio player have a Support button that listeners can use to donate to your show.
In addition to its stunning audio players, it offers comprehensive statistics tools and the ability to manage podcasts. You can get a website created for your podcast players and episode-specific captions automatically, which is excellent for beginners.
9. Simple Cast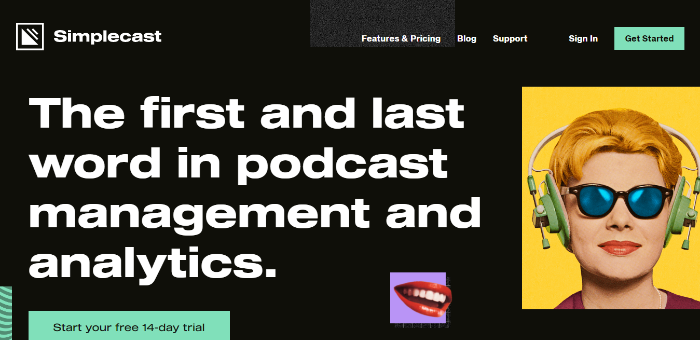 It is a realistic way to publish your podcast and make it accessible to your audience. They enable you to make sure that your audience never misses an episode and provide RSS feeds, reliable analytics, and other features. Sadly, Simplecast does not support audio recording, but you can upload audio files in the mp3, mp4a, or Wav formats.
It is best to import the files as mp3s because Simplecast will transform them into the desired audio format. At the bottom of the dashboard, it has a customizable built-in website feature, with minimal customization options at the top of the screen.
10. Audioboom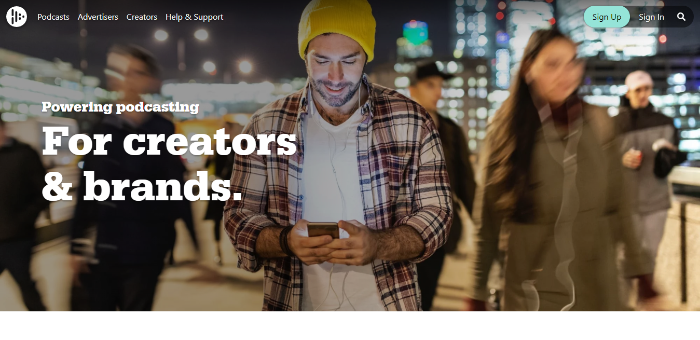 Podcasters can host, publish, and stream podcasts across a variety of platforms with the aid of Audioboom, cloud-based podcast management, and advertising software. You can add brand messages and enhance marketing operations through advertising, live readings, sponsorships, and endorsements.
Podcasters can use analytics provided by Audioboom to track and get a general understanding of podcast performance and audience demographics. The program also enables users to import episodes from RSS feeds, schedule episodes, add contributors to podcasts, and export performance reports in CSV format. In addition to audio recording, it allows for hosting and distribution management.
How do I host my podcast on HubSpot?
If you wish to host your podcast directly on your HubSpot website, then the first step is to build a marketplace application. Here are some standard instructions about listing your app on the HubSpot marketplace.
Here's how Computan hosts its podcast on the HubSpot website:
Step 1
We built the marketplace application using Laravel, MySQL, and HubSpot APIs and listed the app on Marketplace following the instructions HubSpot shared.
Step 2
We used the HubSpot popup to show a podcast management page. We hosted this page on the middleware application.
Step 3
We collected podcast details from the user and stored podcast files such as audio, image, and video on the HubSpot portal.
Step 4
We generated an RSS feed (not to be confused with the RSS.com service provider here) and hosted it on HubSpot as well.
Step 5
We parsed the RSS feed and showed it on the website.