Here at Computan, we know that companies often struggle to balance their day to day operations with implementing high quality development and IT services. Computan is That's where we can help! We help busy marketing teams with development and programming, so they can implement their lead generation ideas! They can focus on their core business operations and serve their clients while we take care of the day to day web development tasks.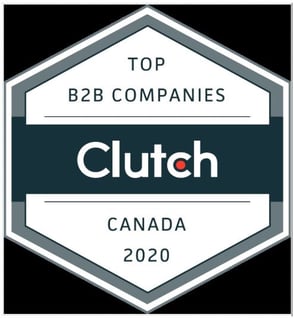 In recognition of our efforts, we've been named a leading e-commerce development company in Canada by Clutch, a verified reviews site. They employ a unique ratings formula to compare and contrast leaders across a variety of business and service sectors.
As with most things at this company, this award truly belongs to our customers. They took time out of their day to engage with Clutch analysts to assess our impact on their processes. The best part of Clutch ratings and reviews is that you can see a company's performance and evaluation based on various parameters. We were evaluated on our attention to project timelines, project management skills, overall cost-efficiency, as well as the quality of our services and deliverables. We're happy to report our most recent Clutch score is 4.9 out of five stars in reflection of that feedback!
We got 5-star ratings and reviews from majority of our customers. See the reviews and ratings below.
"There are a lot of amazing development companies in Canada and to be recognized as a premier HubSpot, WordPress and custom dev shop for marketing agencies is a testament to our team's hard work and effort." – Sajeel Qureshi, Computan VP Operations
We're thrilled to be recognized by Clutch yet again and look forward to helping even more clients going forward! The clients we serve come from all sorts of business backgrounds and roles. Some clients want to extend their existing development team, and some don't even have a dedicated in-house development team. Some hire us for specific HubSpot development work, while some customers want us to handle whatever web development work their company gets from their clients. As experts in multiple web development domains, we cater to all.
Drop us a line if you'd like to learn more about our award-winning strategy.