If you are an Elementor Pro user, then this news is definitely for you. After a week, on March 9th 2021, Elementor Pro will be adding new pro plans; a new Studio Plan ($499/year for up to 100 sites) and Agency Pro Subscription Plan ($999/year for up to 1000 sites) to meet the users' needs.
Important Points of New Elementor Plans to Note
Changes will only apply to New Purchases i.e., plans purchased post-March 9th, 2021.

Nothing changes for you if you have an existing active plan.

Under new plans, the users have access to 24/7 live chat

Team access support – The studio plan supports up to 5 members, and the Agency plan supports up to 10 members.

Tailor-made relevant content – starting with 100+ additional website kits

All the present users with an active Pro subscription keep the same terms for that subscription

Plus and Personal Plans are not changing in terms of price and service. They will be renamed Advanced and Essential, respectively.

Expert Plans, purchased after 9th march 2021 for $199/year, will now support up to 25 sites.

VIP Support available in Studio and Agency Plan. Users can access 24/7 live char or support by email. Receive a human response in 30 minutes to your queries sent via email. In the Studio plan, up to 5 team members have access to VIP support, and in Agency Plan, up to 10 members have access.

Premium Support is available in (Essential, Advanced, and Expert) Plans. You get a human response in less than one business day for your email queries.
Elementor wants to give everyone a chance to get in on the current Expert plan ($199 / year for 1,000 sites) before it is discontinued – so users who wish to purchase this plan or upgrade to it have the opportunity to do so before March 9th, 2021.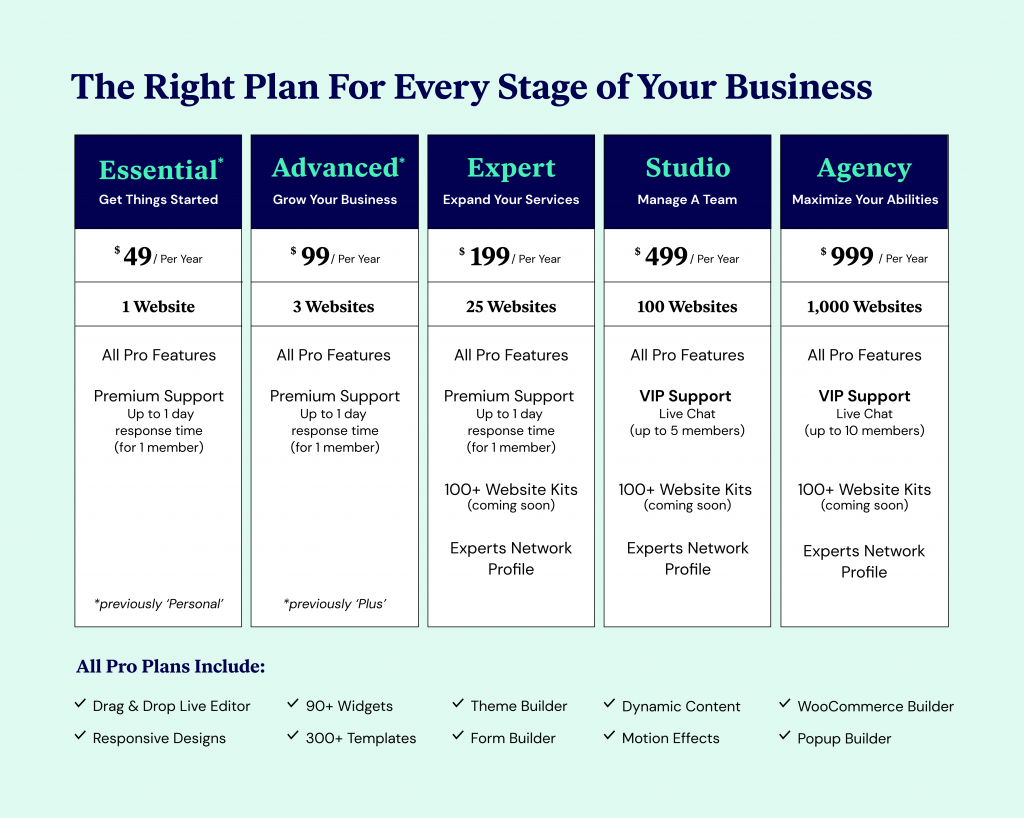 Users on the current Expert plan ($199 / year for 1,000 sites), who would like to access the Agency plan to enjoy VIP support, team access, and more, will get a limited-time 50% discount when upgrading to the Agency plan (valid from March 9th, 2021 until June 9th, 2021). This discount will also apply on renewals as long as the account is kept active.
Originally Posted on Elementor