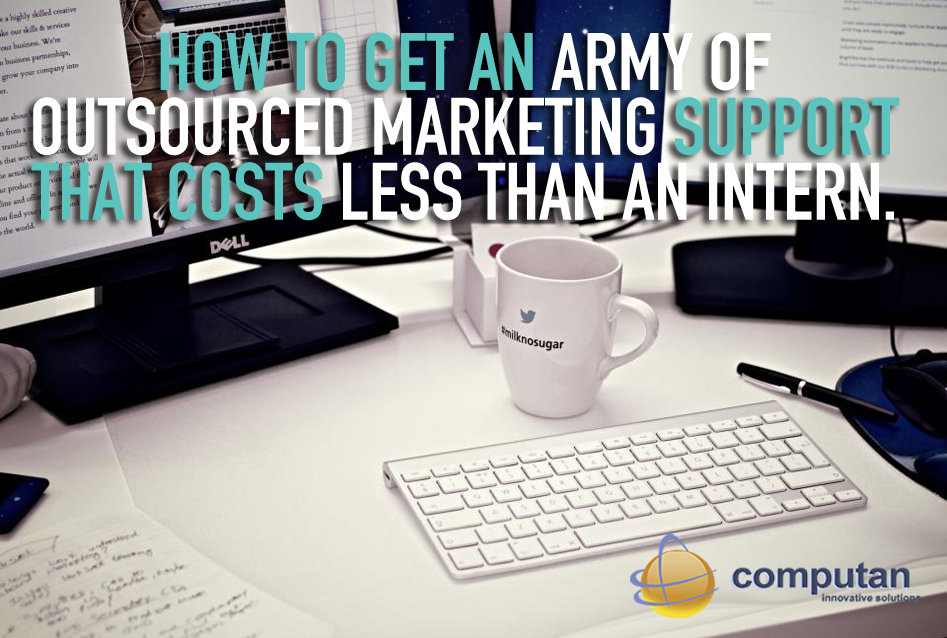 Successful marketing is key to your businesses future, yet it is one of the tasks that gets most overlooked! Companies usually decide that they need outsourcing because they simply don't have the time or the expertise to get it all done themselves, and that's perfectly normal.
So if you're in the same position, you need to seek out some marketing support from someone with the time, expertise and capability to get it done right. But hiring a pretty-picture agency and running a marketing campaign is expensive! So here's how you can get one that costs less than an intern.
Consider this: if you want to build your digital marketing team internally, and avoid having to outsource, you'll need to find people with expertise in web development, graphic design, social media, branding, multimedia, SEO and others. And, believe us, no one can do it all! (If you have a do-it-all person let me know so I can hire them). You'll need to find several employees with different skills, and take care of them, their office space, benefits, vacation, sick-leave, mood swings and more.
Now, if you solicit outsourced marketing support, you can put all of your needs into the hands of one agency without having to manage the responsibilities and costs of an internal and salaried team. In the increasingly fast-paced and demanding digital sphere, more and more companies are seeking outsourced marketing support. Believe it or not, outsourced marketing support has never been more affordable. Remember, you are only paying for the resources you need. Need design help? Great! Use those resources. Have a great SEO setup already? Then just outsource web development! These arrangements get you paying on-demand for activity as oppose to paying when there is no demand. A salaried developer gets paid whether you have work for them or not. An outsourced arrangement means you pay an agency each month and only leverage the resources you need when you need them. Why buy an elepahnt when you can just go to the zoo and see them there?
The biggest benefits of outsourcing are time and money. You'll save yourself a ton of time which ultimately gives you more freedom. You'll save a ton of money as well. Plus, most outsourcing contracts come with enforceable non-competes and service-level agreements that guarantee response times at certain levels. It is much easier to enforce a company-to-company non-compete than a company-employee non-compete. People have to work after all!
So, if you decide to outsource your marketing task, for example, you would get an army of outsourced marketing that cost less than an intern, and with levels of expertise that will easily exceed any intern's skills and for whatever time you need them on.
Another great thing about outsourcing is how easy it is with technology nowadays! Just setting up an Skype interview in that free 15 minutes you have between meetings is a great way to get to know your team better and make sure they have what it takes to be part of your business!
Don't think about it anymore! If you want to grow your business, being cost and time effective, this is the way to go! Thank you 21st century! Do you want to go deeper and need help? Setup a no-obligation call with us today to see if outsourcing is right for you and also see how you stack up against the competition!