HubSpot for WordPress? What? Aren't they competitors? Why would someone want to use HubSpot Plugin for WordPress? Well, this is not a question of morality or ethics. You can use HubSpot for WordPress without feeling guilty as you integrate Salesforce in HubSpot. It's not like you ask for a Mac Burger at a KFC outlet. That would be weird.
The HubSpot All-In-One Marketing – Forms, Popups, Live Chat WordPress plugin enables seamless integration between your WordPress site and HubSpot account. Installing the plugin automatically embeds the HubSpot tracking code into your WordPress pages, giving you direct access to a range of HubSpot tools within your WordPress account.
To successfully install and utilize the plugin, please ensure that you meet the following prerequisites:
Your website or blog must utilize a WordPress.org installation or be on the WordPress.com Business plan. Other plans, such as Premium or Personal on WordPress.com, do not support plugins or JavaScript and are incompatible with this plugin.
Your WordPress version must align with the plugin's requirements. You can find this information in the right sidebar of the plugin page, next to "WordPress Version."
You need to have WordPress admin privileges to install plugins for your site.
Super admin access is required to install the plugin.
To install the plugin, you have two options: adding it directly from your WordPress account or downloading it as a .zip file and uploading it manually. Follow the instructions below:
Log in to your WordPress website admin dashboard.
In the left sidebar menu, go to Plugins > Add New.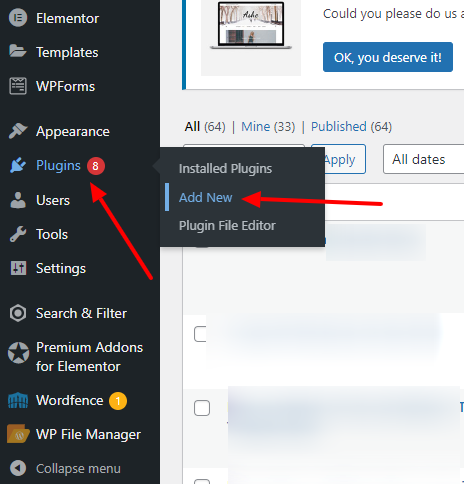 Search for the "HubSpot All-In-One Marketing – Forms, Popups, Live Chat" plugin.

In the upper right corner, click on "Install Now."
Once the installation is complete, click "Activate Plugin."
Now, in the left sidebar menu, navigate to "HubSpot."
Click on "Log in to your account." If you don't have a HubSpot account, you'll be prompted to create one.
If you need to change the HubSpot account linked to the plugin:
In the left sidebar menu, go to

HubSpot

>

Settings.
Below the "Connected to HubSpot Hub ID" field, click "Disconnect this account."
In the dialog box, click "Yes, Disconnect," then "Ok."
Using the HubSpot All-In-One Marketing Plugin
Once successfully installed the plugin, you can utilize its features within your WordPress account. The left panel of your WordPress account provides access to the following functionalities:
Dashboard: View your HubSpot reporting dashboards to monitor newly created contacts and track their activity.
Contacts: Manage a comprehensive database of contacts, leads, and customers, offering detailed analytics in one centralized location. Associate contact records with companies, deals, and more in your CRM.
Lists: Create segmented lists for marketing email campaigns or enroll contacts in workflows.
Forms & Pop-ups: Design mobile-responsive forms and pop-up forms to be incorporated into your website. You can also set up follow-up emails to nurture your leads generated from specific forms.
Live Chat & Chatbots: Enable live chat functionality on your website, allowing real-time communication with site visitors. Additionally, configure automated chatbots to engage with visitors when you are unavailable.
Please note: The live chat widget may affect page load times on your WordPress site. Learn more about the factors influencing page load times.
Email Marketing: Utilize the intuitive drag-and-drop editor to create clean and responsive emails: Personalize content and subject lines based on known contact properties of your recipients.
Built-in Analytics: Analyze website performance and HubSpot forms to identify the most effective lead-generation channels. Clicking the Dashboard link in the plugin menu provides access to these analytics. Additionally, track your team's performance through sales dashboard reports.
Integrations: Seamlessly integrate your HubSpot account with over 300 applications, including Stripe, Zapier, and more. Discover featured integrations and explore the complete list within your HubSpot account. Integration setup should be done in your HubSpot account.
By leveraging these capabilities, you can enhance your marketing efforts, gain valuable insights, and streamline customer interactions using the HubSpot All-In-One Marketing - Forms, Popups, and Live Chat plugin.