HubSpot website or any website is your primary web content asset in digital marketing. Optimizing your website helps you achieve your marketing and business goals using technical and marketing techniques to increase website traffic, generate leads through the website, and comply with your website with search engine guidelines. One simple change leaves so much positive impact on your website. And, doing many such website optimization changes cover the ground for business goals.
Did it ever occur to you why your competitors get a place on Google's first page, and you don't, despite being better or having a beautiful website? It is probably because you built the website but didn't optimize it as per Google guidelines. But your competitors did that because they knew the impact a well-optimized website has on their business goals. It is true that most people are not aware of optimizing the websites, and it is understandable. But I hope to expand your knowledge on HubSpot website optimization by the end of this blog.
I am listing out what website optimization does and how does it make all of that happen.
Website Optimization Improves Website Ranking
The base of every website optimization task is the guidelines Google has set for websites. Every website that is listed on Google and wants to rank well needs to follow those guidelines. Google gives a lot of priority to the users who use their search engine. All the guidelines are set to make the search experience better for its users.
People should find what they are looking for
- This is done by writing keyword-focused content and mentioning the same in meta descriptions. Meta Descriptions are the three-liner peepholes that tell the users what the page is about. See the example below.

They must feel secured about their data while surfing the internet.
- To make the users feel secured about their visit to the webpage, the webmasters must use an SSL certificate. Users can identify that either by observing HTTPS before the domain name or the lock sign in the chrome browser. Google automatically puts secured websites above unsecured websites if the two are fighting to rank on a particular keyword.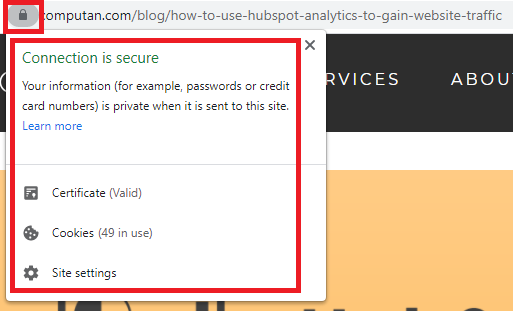 - Update your CSS and JavaScript libraries, and if you are using WordPress, update your plugins. Hackers around the world look for old plugins that have not been updated. They target those for attacks. This is something that regular websites visitors do not notice. But, it is important for your website security.
They must be able to use the website on any device comfortably.
- We have mobiles, tablets, and desktops as device types. Users must be able to use the website content and view it comfortably on all device types. Google doesn't want its users to have a poor content viewing experience on any device. In HubSpot, you can see how the page looks on different device types. Go to Settings of the page and click on different device view settings. See below.
If your website has all that Google wants its users to experience, you are on the right track for a good ranking because Google loves when you give importance to its users.
Website Optimization Helps Improve Website Traffic
When Google is happy with your website optimization efforts, it surely puts into the top search results which get most of the targeted traffic. Getting targeted traffic is the whole point of having a website, and it also fills the top of the sales funnel.
Not only Google, but if users also get a good experience on your website, they tend to return for more on the relevant topics. Returning visitors add to your website's positive votes.
What counts in user experience?
Speed – the more, the better
Website pages that load quickly are likely to let users stay on the website. If the users just keep seeing the loading icon, they tend to lose interest and exit the web page quickly.
How to increase website speed?
Minimize the CSS and JavaScript libraries you are using.

Compress the images or videos on the webpage.

Reduce the server requests the page sends

Reduce page redirections

Lever browser caching

Improve server-side response
The Right Content- Correct, Interesting, Relevant, Original
If your website content is helpful for the users and aligns with the keywords for which it is ranked, then the users will come back for more. If they find the content irrelevant to what they are looking for, there are low chances they will click on your website link again. It's a human tendency to remember what they don't like than what they like. See it like this; mobile application owners always need to ask for feedback or a 5-star rating. But when the users don't like an app, they just go to the app store and give a negative rating themselves or highlight that on social media. They don't need somebody to tell them to rate a mobile app negatively.
The Web Design – Color, Spacing, Typography, Placement
Not too tightly packed, not too loose, not too contrast, not too dull, what you need is pleasing and comfortable to the eye. Easily readable fonts, the right size proportion of headings, and the paragraphs contribute to the user's reading experience.
CTA buttons, navigation, and important links are necessary to be placed the right way so that users can easily find the content on your website.
Website Optimization Is Cost-Effective
Optimizing the website nearly costs nothing to a few dollars. The SSL certificate is also free with some server hosting plans. It just takes some time and effort of the team that is already working for you. And the traffic you get after optimizing your website is more authentic than the previous ones. You receive the traffic on the right keywords for the right reason. The next step is to nurture the lead generated through the website.
Do Check out: HOW TO SETUP SEO IN A HUBSPOT WEBSITE FOR GOOD RANKING