Team collaboration tools are part of the company ecosystem since employees are no longer working under one roof. Teams from different parts of the world connect and communicate through these channels and keep a record of their discussions about the project and its progress.
Slack and Rocket Chat are team collaboration tools that need no introduction, but you would love a detailed comparison blog. Both these channels have replaced emails as the core business communication channel.
Similarities between Slack and Rocket Chat in a different spectrum
| | |
| --- | --- |
| Slack | Rocket Chat |
| Slack offers instant messaging that allows companies to communicate with their staff and clients. It enables you to do audio and video calls as well. | Rocket Chat offers chat, video conferences, audio messaging, file sharing, or other Omnichannel options. |
| Everything you need is smartly organized on the left side of the screen, and you don't have to look for things around. The Slack search panel can find anything from messages, files, channels, and people. | In Rocket Chat, a search panel can be used to find a public room or a user to message. |
| In Slack, you can message people privately or in groups and get an instant notification. The channels allow you to organize conversations into different groups. | Rocket Chat offers you three different channels- public groups, private groups, and direct messages. |
| Slack Connect feature allows you to message people outside your organization instantly. The external users can only see the channels you add them to and cannot see conversations from other channels. | Using Rocket Chat's mobile app, you can always reach your customers and colleagues on Android or iOS, even when you are away from your desk. |
| Slack also comes with a powerful mobile app where you can do just about everything you will do on the app. | In Rocket Chat, you can format your messages and respond to them. |
| You can also upload and send files and react to messages with emojis on Slack. | Rocket Chat allows you to utilize channels, groups, debates, location, and E2E encrypted messaging on a platform that is designed with efficiency. You may access the entire discussion history, ensuring nothing is missed. |
| Slack allows you to view all of the previous discussions in the channel from links to files so that you can follow along with the channel conversation. | |
Pros of Slack
Slack is what Rocket Chat wants to be in the coming years. It is more polished, has more integration options, and is easy to set up and use. The free version allows only ten integrations, but you get unlimited integration options as you pay more for the higher version. It requires minimal training for new users.
Cons of Slack
You can only record 5 minutes of audio and video in Slack.
Sajeel Qureshi, VP of Operations at Computan says, 'The paid version of both are pretty similar, but Rocket is way cheaper.' Let's see why that is. The free plan comes with limited 10,000 messages. So, when you use Slack more often, you will eventually run out of free plans. If you do not upgrade, it will be hard to find old messages. Now when you pay for Slack, you pay for every user, and the whole year, the cost skyrockets immediately in the paid version.
Pros of Rocket Chat
Rocket Chat is that it is open-source and decentralized, which means you can do whatever you like with it. And because of that freedom, Rocket Chat clients do a lot of customization to align it more with their company's workflow and processes. Customization options are in abundance in Rocket chat since it is Open Source.
You can host Rocket Chat on your server. And this makes Rock Chat a more secure option. Sajeel Qureshi feels the same, 'Rocket is very flexible and secure for tech-savvy companies that can set it up on their server.'
End-to-end encryption and unlimited messaging history
Cons of Rocket Chat
There is no customer support in the free version, and you must rely on the community when anything goes down in Rocket Chat.
Comparatively, setup can be tricky if you want to set it up on your server for more security.
You have to set up the notifications in the free version manually. "You have to alter multiple system options to receive notifications, like allowing it to run in the background; that's a manual procedure to enable," says Ahmad Ali, Creative Director at Computan.
Ease of Use
You may work more quickly by switching fewer tabs when your other work apps are connected to Slack. You can automate away routine operations with the help of strong tools like Workflow Builder. You have complete freedom in Slack to work whenever and wherever suits you. It enables you to easily chat, share audio and video files, or join a meeting to have a live discussion.
Rocket Chat is a platform for communications that is secure, flexible, and scalable and meets the requirements of small, medium, and corporate companies. Rocket Chat scales with your organization, no matter how it is set up. Joacim Nicolaysen, Customer Support Specialist at Computan says, 'Rocket Chat is very simplistic, at least how we use it. That makes it very easy to use and understand, improving communication flow.'
You may easily map unlimited workspaces, teams, and channels to your organizational structure. It set up custom rules and role-based permissions to manage account access for each team and each employee from a single dashboard. However, there is room for improvement as per Joacim Nicolaysen, 'What I think Rocket could do better is to let us group certain chat channels that would be helpful with certain projects.'
Administrators of Rocket Chat can set up their workspace per their own rules. Rocket Chat has been implemented in even the strictest organizations with support for GDPR, HIPAA, FINRA, and many more.
Integrations
Popular in-built integrations in both: Slack allows you to link major software and custom apps directly into Slack, enhancing all your tools' efficiency. Your tools and workflows are streamlined on the platform so that they are all in one location, which reduces the mental strain of switching between apps. It keeps everything securely connected while apps put information and work at your fingertips. Slack offers various categories of apps you can integrate, such as analytics, communication, design, file management, health & wellness, marketing, finance, productivity, and more.
Integrate your everyday tools and unique applications directly into Rocket Chat to speed up operations, save time, and achieve more. It integrates all your work and communication tools onto a single platform while ensuring data security. It offers communication apps such as Zoom, WebEx, MS Teams, Jitsi, CRM & Productivity apps such as Salesforce, Dropbox, and HubSpot, Social Media apps like SMS, email, Telegram, WhatsApp, Live Chat, Twitter, Messenger, DevOps such as Jira, BitBucket, Bamboo, Confluence, and GitLab.
Integrating Third-Party Apps in Slack
How easy it to integrate third-party apps is: Integrating third-party apps in Slack is simple. You can do this in 4 easy steps. They are:
Click on Apps at the top of the left sidebar from your desktop. If you don't see this option, click

more

to find it.

Search for the app, and then click

Add

. You'll be taken to the Slack App Directory.
Click Add to Slack.
Follow the prompts to install the app.
Integrating Third-Party Apps in Rocket Chat
Incoming Webhook: An external service sends a request to Rocket Chat.

Outgoing Webhook: Rocket Chat sends a request to an external service.
Go to your Admin panel.
Click on Integrations
Click on Create a New Integration
Select Incoming WebHook or Outgoing Webhook
Follow the steps in the respective integration method.
Pricing
Slack Pricing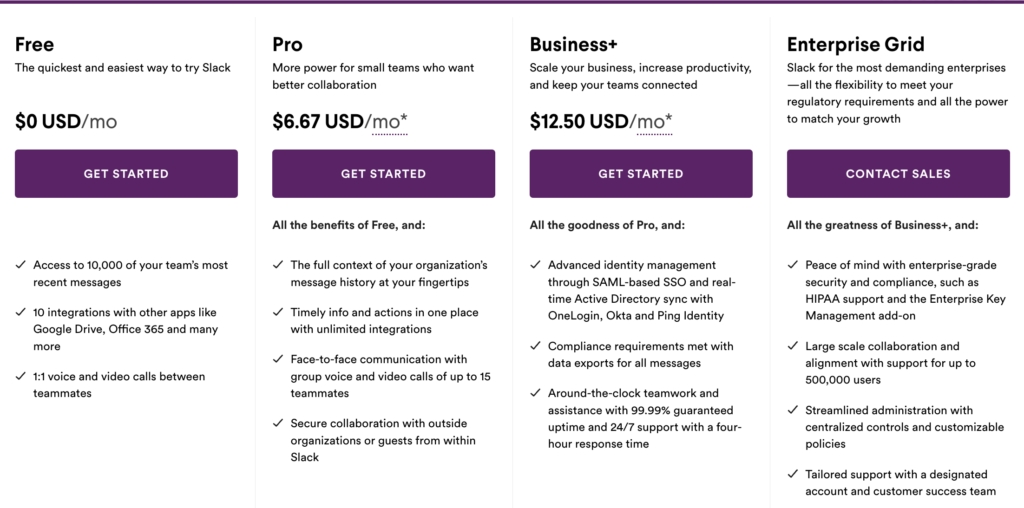 Rocket Chat Pricing