MTFX Group is an established foreign exchange and global payments company. Launched in 1996, they are now one of the largest and most respected foreign exchange providers in North America.
They use a proprietary platform that monitors the market and ensures their users get the best rates possible. This platform includes a wealth of market information and forecasts as well as currency converters and live currency rates.
MTFX Group wanted to set-up a marketing automation system that would actively manage the information that their users wanted to receive, allowing them to choose to receive market updates of the currencies that they are interested in purchasing and live alerts when their currency hits a pre-selected value, allowing people to buy the currencies that they want at the rates that they are willing to pay, among a wealth of other available information.
The Challenge
Computan was asked to create a custom marketing automation experience for MTFX customers. MTFX wins business by getting it's customers and prospects the best rates at the best time given global market conditions. Further, customers and prospects tell MTFX reps what specific rates they want to trade various global currencies at. MTFX needed a custom solution powered by HubSpot to instantly notify their customers. This meant integrating their existing proprietary system with both the HubSpot platform and their existing email provider, Mailchimp in order to give MTFX the ability to create custom workflows and notification preferences for their users depending on the information that they wanted to receive and when.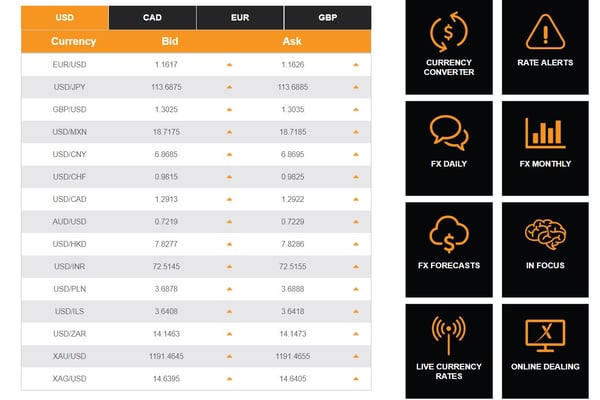 This involved the collection and management of a wealth of sensitive information, which needed to be updated live between all three systems to ensure that the user received the information that they had requested. It also needed to manage opt-out information between all 3 systems, as well as have a fallback strategy to ensure that no data was lost.
For Computan it was essential to get this right and ensure that the right people were receiving the right alerts at the right time. Many of MTFX's B2B customers wire large sums of money at a time and getting the right rate at the right time can be a huge cost savings or source of revenue for their customers. Their customers base large foreign currency purchase decisions on rates hitting a specific value and if they didn't receive their alerts, it would cost MTFX and their customers valuable business. This real-time element added a layer of complexity to the project and made it crucial that no data was missed throughout the three-way integration process.
The Solution
The decision was made to use HubSpot as the central management system for the marketing automation process. All user communication preferences would be taken from MTFX's proprietary financial platform and processed by HubSpot. HubSpot would then push users into specific lists depending on their selection of notification preferences - hourly text, daily email etc.
These communication lists needed to consider not only the content that the user wished to receive (live alerts, daily or weekly forecasts, analysis etc.) but also the medium through which they would be receiving the information, with SMS or email communications available depending on the user's preference.
This information would then be passed into specific Mailchimp lists, which would send users the relevant information using custom email templates populated with live data.
To do this, we manipulated available APIs from both the proprietary platform and Mailchimp. This allowed the user to login to their MTFX account and select the communications that they wished to receive within the tool. This information would then be passed through to HubSpot through the API, and then pushed to the relevant list in Mailchimp.
Computan used HubSpot's lead management tools to process each prospect. As each prospect was bringing across a wealth of data from the proprietary system, this had to be configured with custom information which had to be consistent across all three platforms, as well as updated and managed in real-time. Further data on customers and prospects would be pushed back into HubSpot to gauge what rates/offers generated actions, clicks and conversions through which medium.
Computan also created a fallback system, using the API to monitor which leads have been passed between the proprietary site and HubSpot. Any leads that weren't processed by the API could then be manually entered, ensuring that nobody fell through the system which could potentially have cost them business-critical information.
Results
Rather than implementing an inbound campaign with a measurable ROI, the purpose of this integration project was business transformation, giving MTFX the ability to use the power of Hubspot to manage their business better.
The main impacts of the integration work can be broken into two areas;
Cost Saving

Lead Intelligence
By using Computan to engineer an integration between their business and communication platforms through Hubspot, it saved MTFX from having to invest in a brand new website, which enabled them to achieve what they wanted for their customers without having to make a large scale investment in a brand new technology stack.
By including Hubspot in this implementation, they were also able to unlock all of the lead intelligence that comes with being able to monitor engagement with their content. Rather than simply implementing a flat communications platform, this integration allowed them to use Hubspot's lead scoring system to enable the sales team to onboard their most engaged customers and prospects.
The Impact
The integration work carried out by Computan has helped MTFX to implement the Inbound Methodology to positively affect both their business and their clients' experience of using them as a provider.
It has enabled them to place the right content in front of prospects, giving them the information that they need to then go on and place an order when the market meets their unique conditions.
It has also helped to change their customers' behaviour for the better, giving them the ability to purchase currency earlier and at a better price than they were doing previously.
This has been transformational for the business, moving their customers onto a more self-sufficient purchase model rather than relying on Account Managers to have to manually contact clients when market conditions meet their requirements.
It has also opened up brand new insights for both Account Managers and the Sales team, giving them the ability to monitor prospect engagement through lead scoring and enabling them to directly follow-up with prospects that are actively engaging with specific content. Also, by having the intelligence over which currencies they are engaging with, they can tailor their approach to ensure they are promoting relevant content to each specific audience.
Arif Harji from MTFX explains this further:
"This project with HubSpot and Computan has radically changed the way that we can do business with our prospects and customers. We can give them instant access to live currency changes and a wealth of information that positively affects their investment decisions. We were able to do this without any interruption to our customers thanks to the way that Computan was able to integrate our existing systems with zero downtime and seamlessly adding HubSpot to the mix without us having to invest in a brand new website."
Sajeel Qureshi, VP Operations at Computan explains how this project worked from Computan's perspective:
"This was a great project for us to get involved with as we were taking a number of different tools and getting them to work together with HubSpot to make a real difference for our client. Our integrations team relished the opportunity to integrate HubSpot with MTFX's custom-built proprietary solution and it was great to come-up with a bespoke solution that has helped to make such a difference."
If you want to see how Computan could help with any Hubspot integrations, simply click below for a free quote.