Comparing Salesforce Commerce Cloud with Shopify wouldn't be a fair comparison because their don't match. Salesforce Commerce Cloud is an enterprise eCommerce platform. Shopify has its solution Shopify Plus solely focused on large enterprise clients. So, Shopify Plus and Salesforce Commerce Cloud comparison is pay-per-view main event worthy. Let's tune in.
Ladies and gentlemen, this comparison is set for one fall. It is for the 'best enterprise eCommerce platform in 2022.'
In the green corner, we have from Ottawa, Ontario, Canada, launched in 2014 and with 5810 customers - Shopify.
And, in the blue corner, we have from Burlington, MA, originally known as Demandware, launched in 2004 and acquired by Salesforce in 2016, with 4500 online stores - Salesforce Commerce Cloud.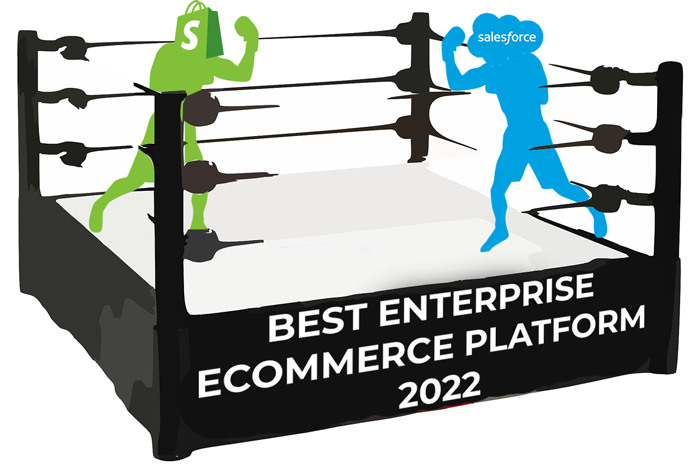 Today's eCommerce users are connected users. They view the same product or, let's say, the brands let the users see the products on multiple fronts such as Mobile devices, desktop, social media channels, Amazon, wearables, messengers like WhatsApp and Facebook messenger, and others.
Not only do the brands display their products on these fronts, but they also give the users the option to make the purchase from any of these fronts. All these are shopping windows now.
Companies looking to quickly scale big need this omnichannel presence because if they don't reach the customers, then their competitors will. The eCommerce platforms that allow merchants to easily set up a store and eCommerce features across channels win the bid.
It is going to be a tough one because both the opponents have a lot in common when it comes to their strengths.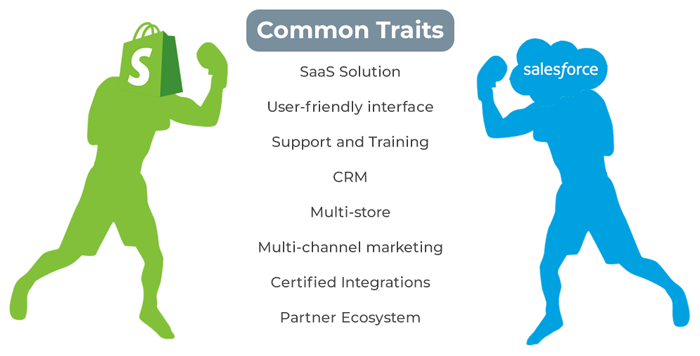 Powerful Moves by Shopify Plus that could win it the match
Shopify Plus is the highest tier of the Shopify plan that is priced at $2000 a month, and you can set up nine different stores with one account. Merchants running multinational businesses need a different look and feel for their stores based on the currencies, languages, offers, and audience's taste; hence it becomes easy for them to build and scale their online store in different countries.
And, because Shopify plus is for high growth and high volume brands, the company has kept some features exclusively for this premium plan worth spending money on.
Most Popular Features of Shopify Plus
Shopify Flow
Shopify Flow is an automation solution that allows you to build workflows to automate campaigns, processes, and tasks within one app and across apps. Shopify has pre-loaded the most used and most common business scenarios within the app to accomplish automation in just a few clicks.
Shopify Scripts
With Shopify Scripts, you can deliver personalized customer experiences. The scripts are codes that can be used to create strongly targeted promotions with discounts, checkout, and shopping carts, simplifying your customer journey.
Launchpad
Black Friday sales, Halloween discounts, year-end sales are all big days for the eCommerce players. Shopify Launchpad helps you schedule and monitor sales and revenue on all such important and big days. And not only these, but you can also schedule your big product launch days. Product visibility, scripts, themes, discounts, there are much more options you can schedule and monitor through Shopify Launchpad.
Increase API call limits
API call limits for Shopify Plus customers are doubled in every sense.
Admin API (GraphQL) increased from standard 50 points/second to 100 points per second.

Admin API (REST) increased from standard two requests/second to 4 requests per second.

Storefront API increased from the standard minimum of 0.5s per request, the 60s per user IP to minimum of 0.5s per request, 120s per user IP

Payments Apps API (GrapphQL) increased from standard 910 points/second to 1820 points/second.
Moves by Salesforce Commerce Cloud that could win it the match
Salesforce Commerce Cloud is an evolutionary version of Demandware. That's right. Demandware was a software technology company that Salesforce acquired in the year 2016. Salesforce then turned their acquisition into Salesforce Commerce Cloud.
Salesforce Commerce Cloud is priced as pay as you go, model. It doesn't charge you monthly. But, it does take up some percentage of your revenue. So, as you grow, you pay more to Salesforce. And, if you are not doing any business, you pay nothing.
Similar to Shopify, Salesforce Commerce Cloud does have loads of apps for integration, but its inbuilt features stand out. The platform practically offers everything within its suite.
Most Popular Features of Salesforce Commerce Cloud
Comprehensive Digital Commerce
Salesforce Commerce Cloud offers you solutions to generate sales through the mobile, web, social media, and physical store. Its solutions help you manage and operate all your storefronts.
Intelligent experiences with Einstein
As you personalize the customer experience in Shopify using Shopify Scripts, you can do the same in Salesforce Commerce Cloud using Einstein. It is an AI-powered solution that makes class classification, shares recommendations, and tells you the next best action to take.
Trailhead
Trailhead is a fun way to learn Salesforce. You can learn the complete order management cycle and improve your knowledge of handling all aspects of orders from capture to fulfillment, shipping to payment, and after-sale services.
Lightning
Salesforce Commerce Cloud's lightning experience allows users to build modern and intelligent storefronts easily. It is applicable in design, features, and data visualization.
Why Use Shopify for your eCommerce Website?
Let me paint a picture for you.
You have a straightforward product line without much variation, and you want an eCommerce platform that is easy to build and maintain using less code and more drag and drop features. If you are satisfied with set themes and templates with minor tweaks and are okay with the platform keeping the back-end to itself, then my friend, you are a Shopify person.
Why Use Salesforce Commerce Cloud for your eCommerce Website?
See if you and Salesforce Commerce Cloud are a nice fit for each other.
Salesforce Commerce Cloud is development-heavy. Merchants do have control of the back-end of the website. Developers must be technically strong to build and maintain a Salesforce store. This might increase your cost, but Salesforce Commerce Cloud also opens doors for some heavy customization which is not there in Shopify.
Conclusion
Both the platforms have brought their A-game in their respective tiers. Both platforms pack quite a punch while delivering results and providing solutions to the users. The winner at the end is the merchant who is making the best use of any of these platforms. You can bet on any of these software if you see aligning it with your requirements.
I wish we had the price plan of Salesforce and easy building and maintenance of Shopify combined in one platform because Shopify saves you money on resources at the beginning of your business. And, Salesforce doesn't charge you anything until you generate any revenue, but you have to spend a lot on tech-savvy resources.