What is

S

a

l

e

s

force Commerce Cloud?
It's all there in the name, Salesforce Commerce Cloud (Demandware B2B) – It is a cloud-based eCommerce platform from the commerce cloud market where we can create our eCommerce websites and manage and sell products. Because Salesforce's robust cloud ecosystem backs it, commerce cloud cms give ample features and facilities such as Artificial Intelligence-based recommendations and complete infrastructure to share your eCommerce store, among others.
Mubashir Rahman, the Frontend developer, says, "Salesforce is a SaaS (Software as a Service) CRM software hosted on a cloud server which makes it fast and robust. It provides you with a complete infrastructure and tools to set up an eCommerce store with little effort. With its different user access levels, it also provides development tools for developers and marketing tools for the merchant." He says. "With its variety of tools, one can concentrate on building an app using Salesforce tools rather than building the infrastructure and tools from scratch. This can save months and thousands of dollars. Thus it reduces the development and maintenance cost of building an e-commerce store," he added.
Who is the typical user of Salesforce Commerce Cloud?
How about Adidas? Adidas eCommerce website is built on Salesforce Commerce Cloud. Other websites that use Salesforce Commerce Cloud include Beats by Dre, Converse, Crocs, Hush Puppies, Nautica, Under Armor; I can go on and on because the list is huge, but you can guess by now what a typical Salesforce Commerce Cloud user looks like.
According to Enlyft, companies with 50-200 employees and 1M-10M dollars in revenue often use Salesforce Commerce Cloud.
There must be many reasons why major brands have chosen Salesforce Commerce Cloud as their enterprise eCommerce platform or cloud eCommerce software. Shopify, as you know, offers cloud-based commerce solutions for small and medium-sized businesses. Small or large-scale businesses also use Shopify because it a cheaper than Salesforce Commerce Cloud CMS.
Shopify works on a subscription-based while Salesforce Commerce Cloud works on a commission-based. As your business grows, you are automatically charged more because it is percentage-based. Shopify's subscription remains the same regardless of what you earn. That being said, this also means that maintaining Salesforce Commerce Cloud in your early days is relatively cheaper because if you don't make money, it charges you nothing.
Regarding bringing everything into one platform, Salesforce Commerce Cloud has a competitive edge because it has incorporated marketing functionalities within its commerce cloud ecosystem.
I will go over a comparison of both platforms in the next blog.
How much does Salesforce Commerce Cloud cost?
Salesforce has set up different pricing models for its Demandware B2B and B2C cloud-based commerce solutions.
Salesforce B2C Commerce Pricing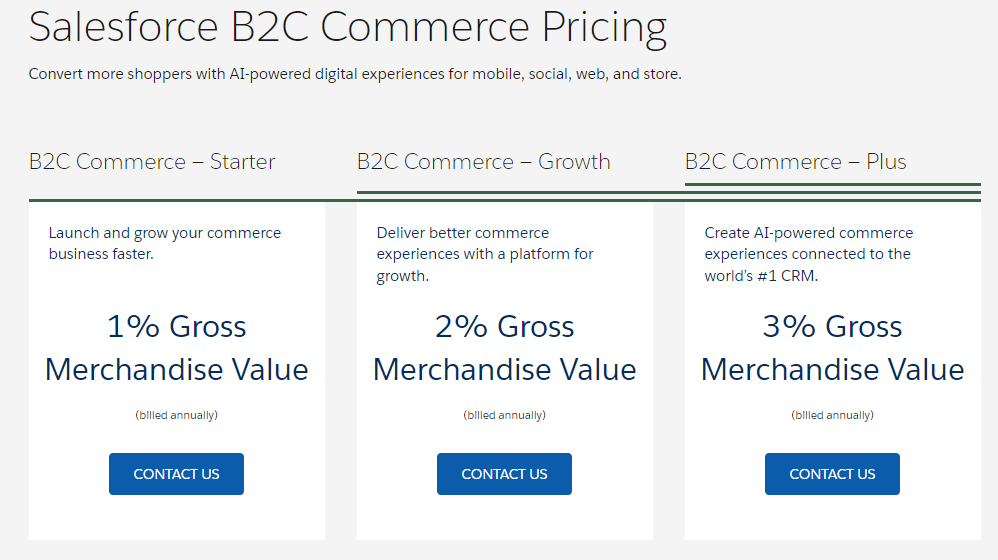 Salesforce Demandware B2B Commerce Pricing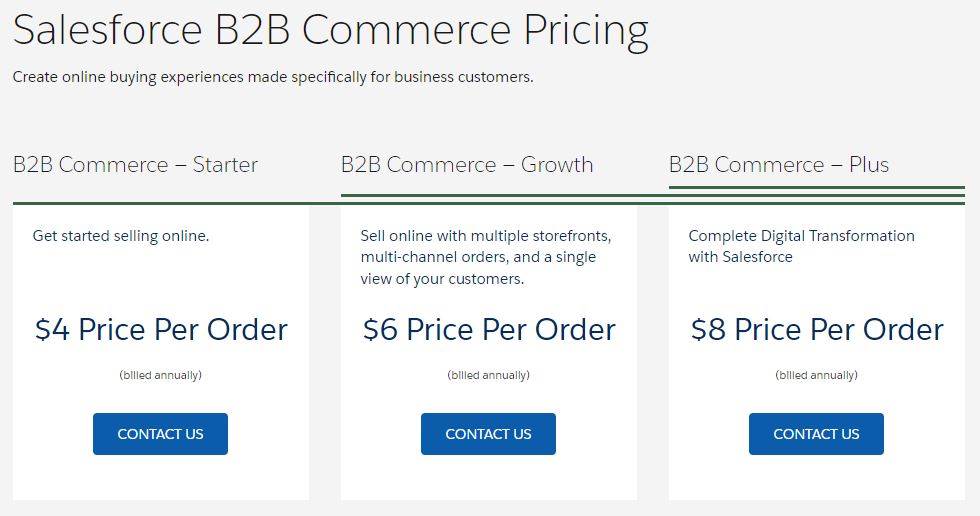 What features of Salesforce Commerce Cloud are not found in the HubSpot CMS?
You can compare Salesforce Commerce Cloud with HubSpot CMS, but you shouldn't because HubSpot CMS doesn't have eCommerce as its core, and Salesforce's Commerce Cloud has. So, we can conclude that features or functionalities for an eCommerce business are loaded in Salesforce Commerce Cloud, and those are the bare minimum in HubSpot CMS. eCommerce store owners have more options in terms of scalability. HubSpot is yet to introduce its eCommerce Hub that would go head-on with other eCommerce platforms.
HubSpot CRM v/s Salesforce CRM is a good topic for discussion, as also HubSpot Marketing Hub v/s Salesforce Commerce Cloud. Mubashir Rahman, the frontend developer at Computan, brings his expertise in comparing the Salesforce Commerce Cloud and HubSpot CMS. "Comparing HubSpot and salesforce depends upon market, cost, and features anyone wants in an e-commerce website. HubSpot is a simpler and user-friendly CRM, while Salesforce provides a large set of customization tools and third-party integrations, which Salesforce mostly provides. In terms of functionality, Salesforce is more feature-rich. It provides a built-in AI system for online shoppers, which boosts store sales."
What skills are needed to develop sites or anything in Salesforce Development? Are they different than HubSpot CMS?
For HubSpot CMS particular, developers must have knowledge and experience in HTML, JavaScript, CSS, HubL (HubSpot Markup Language), HubDB (a rational data store represented as rows, columns, and cells in a table), and custom modules.
For Salesforce, the developers should have knowledge and experience in Object-Oriented Programming Principles, .Net Programming principles, Model-View-Controller design, Java, JavaScript, CSS, and HTML. Also, it has a system based on NodeJS, so having familiarity with NodeJS is a plus point.