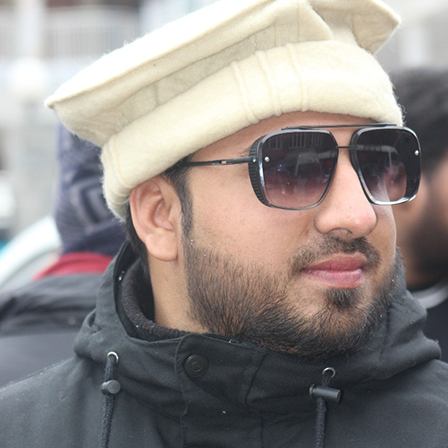 Ahmar is a quality control engineer on Computan's web development projects. Yes, in case you are wondering that means he's a professional fault finder. Developers rely on him to review their work and find things that need fixing or polishing before it gets sent over to marketers for review. In this installment of Behind The Coding Ahmar tells us what he's helping add to the Computan QC team, his trip to Lahore, Pakistan and the similarities between himself and Batman.
Hi Ahmar! What are the last 3 things you Googled and why?
Hi Sajeel. Ok, let's see. The last thing I Googled was restaurants in Lahore.
Restaurants in Lahore? Why would you be Googling that?
Well, I went there for a vacation with my wife to celebrate our first anniversary. And being a huge foodie I was looking for places to eat.
Must have been a fun trip! What did your research tell you?
That there are too many options! I also got advice from Habib (Habib Ullah – one of Computan's Project Manages who knows Lahore very well) and he gave me some recommendations too. In general ate a lot of Turkish, Arabic and Chinese food.
Did you go to Lahore for Arabic and Chinese food?
Lahore is becoming a huge melting pot. Chinese people obviously are really close to their and people have opened up amazing restaurants for ex-pats.
Ok! What else did you Google?
The second thing I Googled was showtimes for The Batman
Ah I see. Did you watch it? What did you think?
I love Batman. He is my favorite hero.
Why?
He's kind of a psychopath.
That's why he's your favorite hero? Because you think he's kind of a psychopath?
Hahaha, no-no. I like that he observes his adversaries very well. He watches people, analyzes their patterns, and uses detective skills to solve problems. I love analyzing and detecting. That's why I chose QC.
Is that why you love QC?
I love observing things, people and patterns. They are life's greatest puzzles. I've always had this interest. You can say QC is in my blood.
Do you think Batman would be a good QC engineer?
Absolutely! He's great at finding patterns in the work he's observing. That's required for any great QC engineer.
What else have you been Googling?
Use case documentation
Can you elaborate on that?
Yeah, we have been trying to come up with standard ways to document use cases at Computan. This is something Nic (Nicolas Milanowski – Operations manager) has asked us to do. The trouble is that we have all sorts of different types of requirements and projects. Some are front-end development testing projects, some are HubSpot integration testing, others are WordPress regression testing etc. The list goes on and on. We are trying to classify our projects into buckets and come up with standard documentation that can be used to build out use cases for any of the various kinds of projects we get.
Nice! That will really help. When was the last time you worked after hours to solve a hard problem?
Probably a couple of weeks ago. I was testing a mobile app dev project and the Upload PDF function was working for some people and not others.
Can you explain why something like that requires you to work after hours?
Because intermittent bugs are the hardest ones to trap. To fix a web development or mobile app bug we need to be able to recreate it, understand its origin, and then we can fix it. But if the bug only happens sometimes it becomes a bit more about the device being used, the steps taken beforehand or format of data, or many other things. In this case, we needed to talk to the client and they were only available for a small period of time before the app needed deployment.
Makes perfect sense! Who are 3 people you'd like to have dinner with at the same time and why?
That's easy. My wife, sister, and mom. We'd have Donair Pizza.
You have a brother too right? He wouldn't get invited?
You said 3 people and if I invited him then one of the other 3 would be left out hahaha.
Donair Pizza is really popular these days…
For good reason too! We have similar tastes. Definitely Donair Pizza.
When was the last time you cried tears of laughter?
Jan 26 on my birthday. First birthday with my family after 12 years or so. It was so much fun and had a lot of laughs.

Where were you when you first saw a laptop/desktop?
It was in 2004 after I passed the eighth grade. It was an awesome day. I went to my cousin's place and he was studying computer science. I saw him on it and I thought he was doing some sort of magic/wizard work on it. Then we played some games.
What games did you play?
Brian Lara 98 which is a cricket game. Need For Speed Underground….I played that one a lot and my car of choice was a McLaren.
Do you still play a lot of games?
I play games on my phone…just to make sure my brain continues to work properly! Don't play console games. But I love to cook.
Tell me more about that! What do you cook?
I can cook anything. I lived in Dubai for many years and obviously eating out every day is expensive. So I started to learn how to cook.
What are some of your favorite dishes to cook?
I love cooking biryani (spicy chicken and rice with a yogurt-based white sauce). The first thing I cooked was ladyfinger curry.
Both of those sound amazing. Is it lunchtime yet?
It is for someone, somewhere!