Vidyard and Hippo Video are used for virtual selling by enterprises of all sizes. This blog covers features of both tools so you can see which features align with your business process easily.
Hippo Video
Hippo Video is a platform for personalized video distribution that makes it simple to make customized videos and share them on a wide range of platforms.

The company focuses strongly on making videos available and easy to use. The users can record, edit, and share video, audio, and screen recordings using this tool.
Vidyard
Vidyard's Video Marketing Platform is designed specifically for marketers, including all the tools and information you need to increase audience engagement, drive prospects through sales, and assess your video's true impact and return on investment.

It allows you to create, edit, manage, host, share, and optimize your sales video and track and analyze the outcomes of your marketing campaigns from a single platform.
Hippo Video Vs Vidyard: Video Recording
You can utilize a webcam, screen capture, and HD audio in Hippo Video to make amazing videos easily on your own. Select the shape of your webcam, whether you desire a circular or rectangular one, and record an unlimited number of videos of 5 minutes in the free plan and 2 hours in the premium plan.

You can effortlessly record your videos with Vidyard browser extensions, desktop apps, or mobile apps. Browser tab recording is also available with or without your camera. The recording time is limited to 30 minutes for free users and an hour for pro subscribers.
Hippo Video Vs Vidyard: Video editing
Edit your videos to remove awkward pauses and undesirable sections with Hippo Video. Advanced editing tools such as voice-over, text-to-speech conversion, green screen background enhancement, etc, are also available in Hippo Video. Include text and images or your company logo in your videos to better communicate with prospects. Apart from basic knowledge, you do not require any technical skills to create and edit videos in Hippo Video.

You can easily trim your videos with Vidyard and divide them into various segments. If there is a mistake you want to rectify, the middle of the video can be edited. The video can be returned to its original form if the edit does not uphold your standards.
Hippo Video Vs Vidyard: Video Sharing
To share your video on social media, emails, and websites through Hippo Video, simply copy the link and distribute it on various platforms. You can export videos with animated GIFs on platforms such as YouTube and G Suite. Instead of attaching videos to your emails, embed them. Capture one-to-one video right in Outreach, LinkedIn, Salesforce, Outlook, and Gmail using Hippo Video.

Vidyard allows you to share the video link as well as the thumbnail at the same time with copy link and thumbnail option. If you have longer videos, you can add chapters to ease prospects and share the video link on social media such as Facebook, LinkedIn, and Twitter.

It is simple to record and send a video from within the LinkedIn message composer using Vidyard. You may also send videos from your Vidyard library in a direct message, to a company page, or on your own LinkedIn feed.
Hippo Video Vs Vidyard: Video analytics
Hippo Video provides excellent video analytics to help you analyze your video performance. Watch rate, share, and retention rates are a few typical indicators. You can find a user's IP address, location, the number of times Call to Action (CTA) was clicked, and the device they were using.

Vidyard provides complete information about which video gets the most views and how the users engage with them. It shows the name of the person watching the video, time, location, for how long, and the number of times a CTA gets clicked.
Hippo Video Vs Vidyard: Pricing
Vidyard pricing model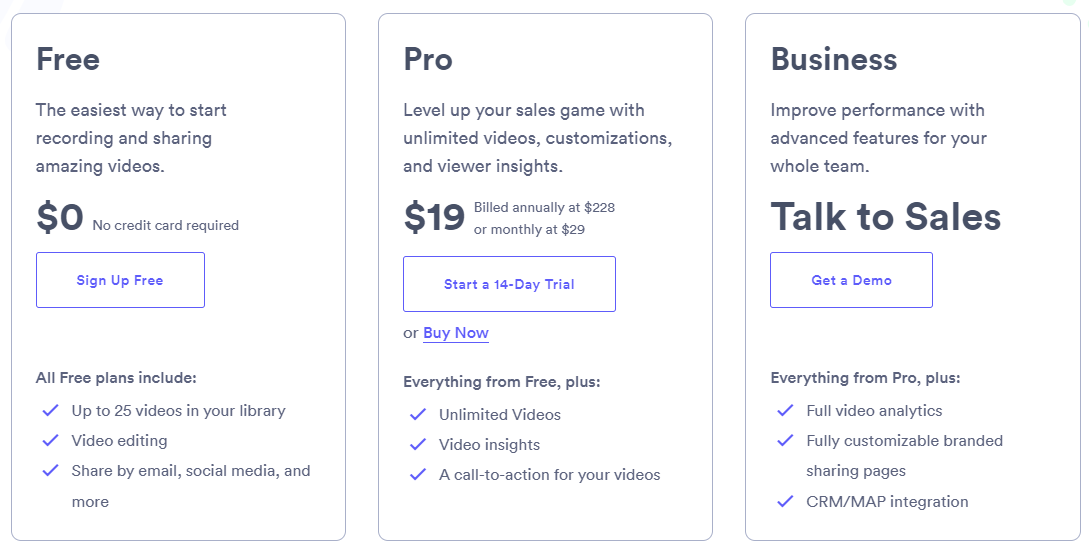 Hippo Video Pricing Model
Hippo Video Vs Vidyard: Call to action
Hippo Video offers a strong call to action like text, image, and HTML in your video. You can easily change the appearance time of your CTAs accordingly. Viewers' responses can be collected by watching videos by setting an interactive quiz or question poll.

Vidyard offers different styles of CTAs such as full screen, banners, forms, etc. You can select when you want your CTAs to appear on the screen. Vidyard's higher plans enable you to create your personalized Call to Action.
Hippo Video Vs Vidyard: Video Thumbnail
Hippo Video allows you to create personalized thumbnails for your video. You must have an eye-catching thumbnail to attract new users. This helps in enhancing conversion rates.

There are four options available in Vidyard for creating a thumbnail for your video. They are Static, Animated, Custom thumbnails, or selected from the video. An animated thumbnail is great as it gives viewers a sneak peek of the video's content.
Hippo Video Vs Vidyard: Automated Transcribing
It can be overwhelming to remember long scripts. You can scroll the text up your screen in Hippo Video's video teleprompter tool to speak without missing a beat for lengthy scripts.

A feature that automatically transcribes your videos for accessibility is available in Vidyard. It provides flexibility in sound-sensitive environments to the users.
Benefits of Using Hippo Video
Auto-personalized video thumbnail in an email: Customers appreciate your use of their names in outreach emails. Select the thumbnail from the video or go with the static one. Moreover, choose a GIF thumbnail that engages and draws in potential customers. Get a real-time notification whenever someone opens your video email. It also provides overall video statistics.

Video template builder: This feature allows you to create personalized video messages and sales pages, add background music, etc. It helps in reducing the time spent on making videos and increases sales output. Make use of pre-designed video templates that are available in Hippo Video.

Virtual background: This feature helps you to record the video from anywhere without being concerned about the background. It has a wide range of background options. You can select as per your liking. It makes your videos look professional and exciting to the prospectors and draws their attention.

Adding annotation: Annotation helps you to communicate or inform the viewers without interrupting them while watching your video. It gives a better understanding of your prospects of what you are talking about. Hence, this makes sure that the viewers are not getting bored.

Personalized Sales Pages: It is the best way to convert your viewers into potential customers. Every element on the page can be changed to provide a customized experience to the prospects by just adding a video message and a meeting link at the end. The performance of every sales page can be tracked in Hippo Video.

Workflows in HubSpot & Outreach: It is excellent for marketing and sales teams that engage with prospects on a deeper level, consistently hold their attention, and stimulate them to make a move. You can simply drag and drop videos to HubSpot and landing pages. They are easily recognizable in the prospect's inboxes.

Video Marketing: Hippo Video provides the fantastic feature of video marketing. Creating everyday brand narratives and sharing them with your audience will help you better engage with them. Also, it improves your search engine rankings and increases conversion and click-through rates. Video marketing assists in capturing the attention of viewers since it tells a story about your product and gives it life.

Video Testimonials: You can effectively gather video reviews from your prospectors. For that, you must share a link and your customers can record and send videos using the link without having to register. You can also use this function to request your customers to give feedback or any questions and send it to you. It can also be used to provide product demo to your prospectors.
Benefits of using Vidyard
Lead Generation: Video may be a powerful tool for distinguishing from other content formats and increasing audience engagement online. Generating leads increases a target audience's awareness, credibility, trust, and interest. It helps boost your revenue, expand your business, etc. Vidyard helps you generate leads by enhancing your video content.

Video SEO: Search engines cannot access video material while searching websites. The more information you give the search engine about your content, the better for SEO. When the SEO Meta tags function is turned on, Vidyard will place as much information as possible about the video content in the <head> tag of the website where your video is hosted.

Easy to use: Vidyard is unlike those widely used tools that are difficult to understand. It offers features that are easy to use and have fast processing. With Vidyard, you can stand out to potential customers with effective and engaging video messages. It makes it simple to record and transmit personalized videos at every point of the sales cycle, from prospecting to proposals.

Marketing Automation and CRM Integration: Vidyard helps to push video data into leading CRM and marketing automation platforms like Salesforce, Marketo, HubSpot, and more. It employs video data to qualify, segment, score, nurture, and engages leads through automated marketing activities. CRM contact records should be enhanced with viewing information so that sales may pursue high-quality leads.

Video Security: Vidyard provides security on your videos. You can apply layers of protection to your videos. These are anyone with a password, anyone with the link, viewers with an IP address, and viewers with an IP address and password. This helps to secure videos with sensitive information. Now, you can confidently share the videos with your prospectors without concern.

Zoom Integration: You can easily record any meeting or webinar in zoom and import it to Vidyard. For that, set up Vidyard for Zoom Integration in your account. Then, allow the option to record to the cloud in zoom. You can find the recording in the library of your Vidyard dashboard. This sends your Zoom meeting and webinar recordings instantly to the Vidyard platform, where you can host, edit, and safely distribute your videos to prospectors.
Our Pick
Sajeel, Qureshi, VP of Operations at Computan had recently taken Hippo Video's subscription, and his top three reasons to do so were

Cost – when it comes to integrating Vidyard or Hippo Video to HubSpot, then Hippo Video is way cheaper than Vidyard.

Features – At the lower price, we got a similar set of features that we use regularly and have eased our video-making, editing, and distribution process.

Onboarding Process – Hippo Video has a quicker onboarding process than Vidyard.