What is a Resource Page?
A resource page, aka pillar page, is a blog page or content page covering a major primary topic and linking to other content pages and a blog page containing a subtopic related to the primary topic. For example, you are writing about making Pizza and mentioning different sorts of cheese and toppings you can use. You can have a separate blog written only on cheese, which you can link to your pizza blog.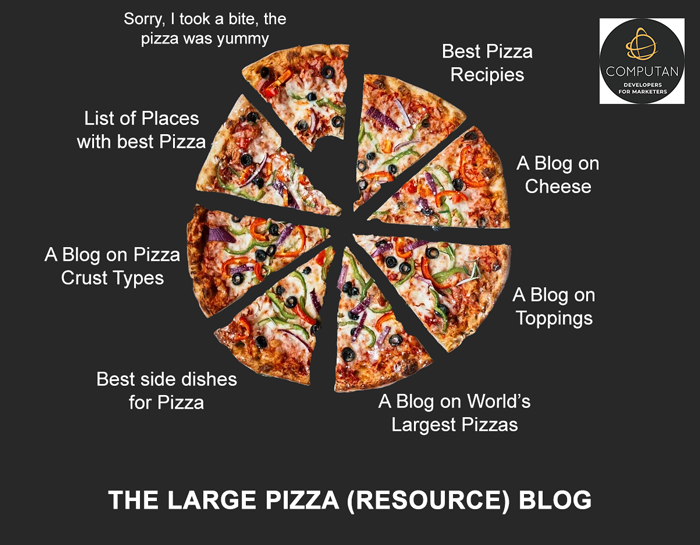 You write a series of blog posts picking sub-topics from your primary blog, and create a network of content within your website. This way, you provide detailed information in a structured manner, but you also get to keep the users on the website for a long which helps in your SEO. The longer the users stay on your website, better the ranking.
Another plus point of having a resource page is that you target the keywords from the same family. You cover the search results from all the corners. In the above examples, you cover Pizza, crust, toppings, best Pizza, side dishes, pizza places, largest Pizza, how to make, recipes. All these keywords are related to food and Pizza. Of course, you will find the long-term keywords for each linked blog. When you work on many such resources, your inventory demands you to build a complete resource center.
Why Do You Need a Resource Center?
When a website section like a resource center keeps your content organized, engages the audience, helps with SEO, improves website conversion rate, you wouldn't want to miss that section for sure.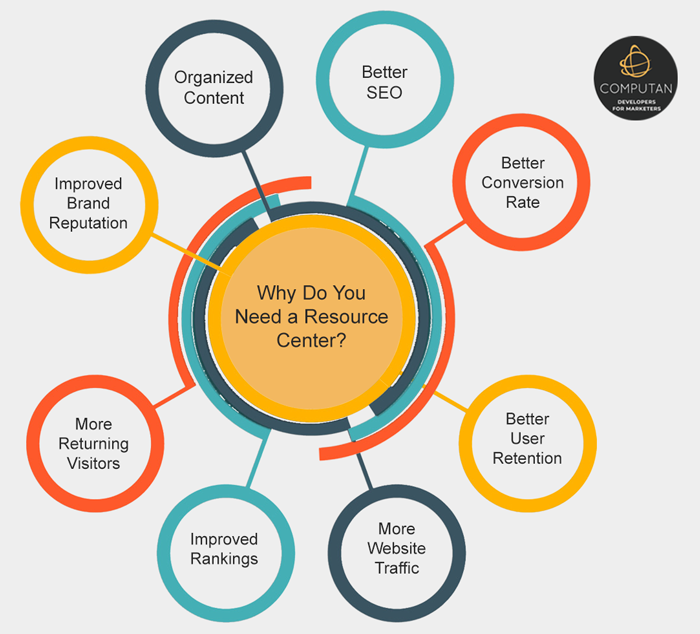 What Goes into Making a Resource Center?
You can't just decide one primary topic randomly and write on anything that gets mentioned in the blog. Think of it like this; you are adding a syllable to your website content as you do in academics. The content needs to be divided with proper planning. Your resource center is your digital library. Arrange the content and topics in a systematic order. Readers should not have to struggle to find a topic or a blog.
You need to work for the resource center before you want it to work for you.
Here are the steps to create a resource center
Content Outline
You can take the help of Google Trends and Keyword Planner to finalize the content topics and the keywords around them. Once you decide on the primary topic, make the structure and divide the whole content into smaller sections and sub-headings. Find the potential keywords around the sub-headings make an outline of the content around those sub-headings. Similarly, find other primary topics, keep them all in a spreadsheet, segregate them according to their type and approach. Not all content types need a blog piece. You can create a whitepaper, video, presentation, e-books, and how-to guide around those topics.
You might offer some of the content pieces free while keeping the other pieces gated or paid. Ungated or free content gives good SEO to your website, and the gated content gives you leads. Blogs, YouTube videos, infographics are mostly kept ungated. And e-books, whitepapers, webinars, and a few of the specific case studies are kept gated.
Design a Resource Page
A resource page is not a normal blog page where the snippets of the blogs are automatically placed when you place them. Treat the resource center with a separate home page that has various sections, filter options, and direct links for the users to the downloadable content.
See the below examples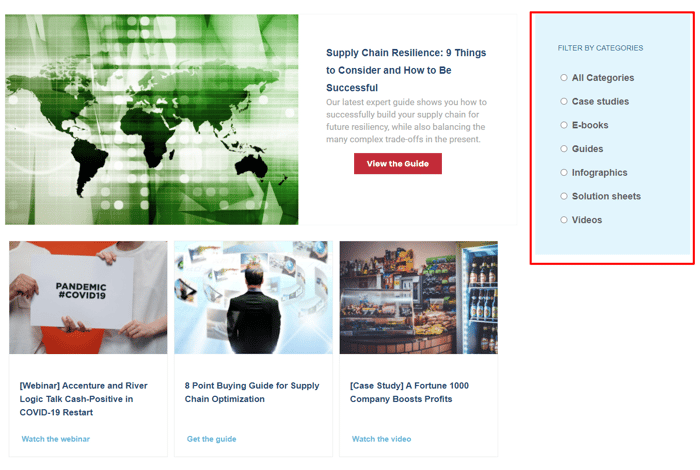 The filter options on the right side allow the users to choose from the different types of content assets uploaded in the resource center. All these content options can be made available for all. You can even make a few of the gated or pitch them as 'premium' content to the visitors. Riverlogic as well a few guides gated.
Here's another great example
Chorus Connection Resource Page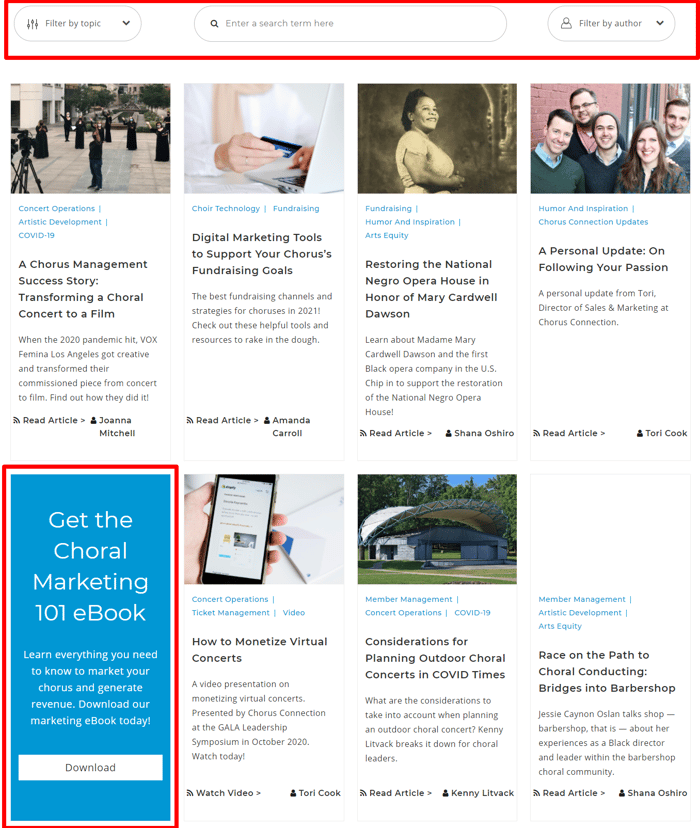 As you can see on top of the page, Chorus Connection has given a search option by keyword, filter by topic option, and filter by author option. The downloadable content is also placed in between other content. The e-book snippet you see in the above image is gated content. Users have to fill a form to download the e-book.
See in both the images how both the websites have used Call-To-Action buttons for every content piece listed there.
Social Sharing
Any resource page or even a simple blog page is incomplete without the social sharing options. Chorus Connection's posts do have social sharing buttons embedded on them. You see then when you hover on any post. The social sharing buttons are also available when you open a single blog page.
In the case of premium or gated content, you can place the social media sharing buttons on the landing page or thank you page. People viewing that page will still have to fill the form to access the content.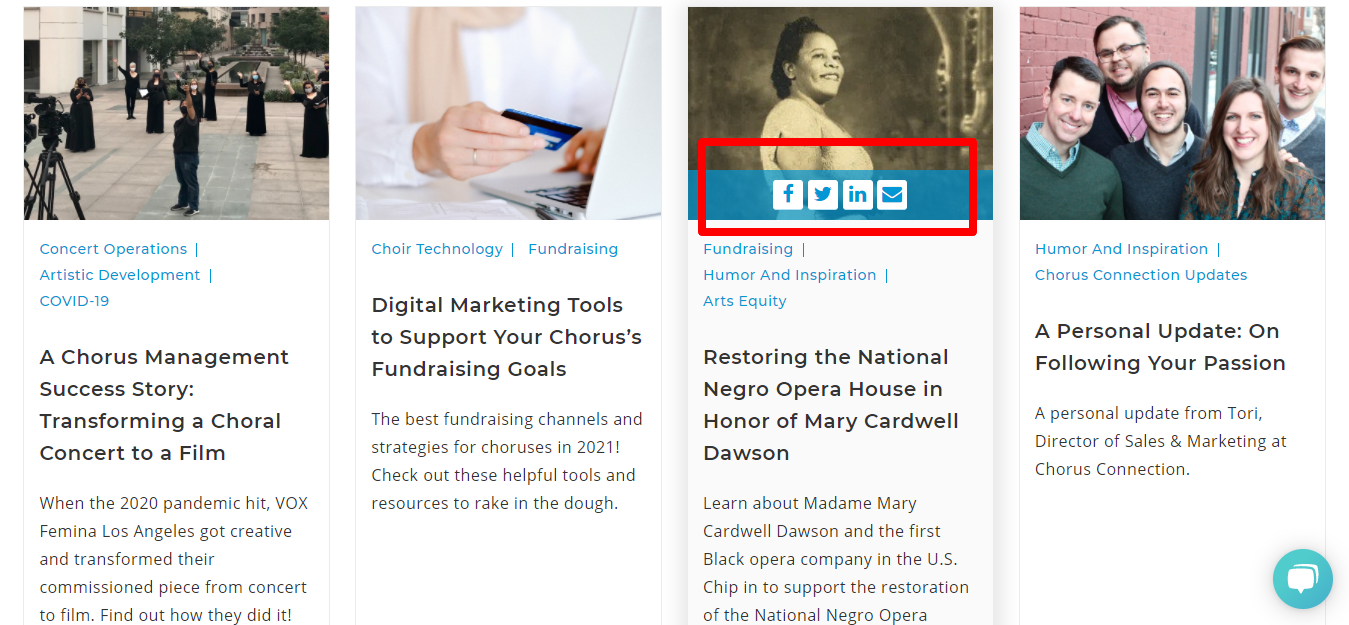 Promotions
All the hard work you have put into creating a fantastic resource page deserves a good traffic count. Promote your resource page on and off the page—direct website visitors to the resource page from other website pages. Create backlinks from other high PR and DA websites. Promote it on social media. Basically, do all those things that you would do to promote your website.