Slider Revolution in WordPress is still unknown to many people, which is unsurprising. So, don't feel left out if you don't know what it is. Slider Revolution is a WordPress plugin that allows you to create beautiful sections on your website in an easy way. The attractive slideshow section on the websites is probably made from Slider Revolution in WordPress. Because it looks stunning, more users started putting slider sections on their websites, so it became a revolution in itself.
What is Slider Revolution in WordPress?
As with other content-creating sections and plugins you have in WordPress, the Slider Revolution WordPress plugin also is a content-creation and display tool. You can quickly get it from the official Slider Revolution website or the WordPress plugin library. The plugin is known for its stunning animations and exciting visualizations. It has shown strong progress with time, which we will explore in this article.
What Makes Slider Revolution So Popular?
No Coding in Slider Revolution WordPress Plugin
It's a simple plug-and-play thing that doesn't require coding to install or use the plugin. Create the animation and visualization of your choice using the simple drag-and-drop option. Even the templates are available with a one-click installation feature.
No Prior Design Experience to Use Slider Revolution in WordPress
The Slide Revolution plugin for WordPress offers easy usage, but there's not much learning curve like there is in heavy designing software such as Adobe Photoshop or Aftereffects.
Addons in Slide Revolution
Although the Slider Revolution plugin is loaded with features, you can still expand its capabilities through Addons, allowing new possibilities to your design. And these Addons are available in all plans.
Evolution of Options in Slide Revolution Plugin
Slider Revolution for WordPress was launched as a simple slideshow maker in the initial days. With time, it has evolved into a complete design solution to design a webpage from scratch.
A Quick View of Slider Revolution Features
Slider Revolution Plugin Modules
As WordPress gets its power boost from plugins, the Slider Revolution plugin gets its boost from the modules. Modules are the core of the Slider Revolution in WordPress. Every designing task in the plugin begins with modules. Using modules, you can create hero units, carousels, post displays, sliders, eCommerce store showcases, and other content elements.
Modules work as a container that contains content elements you want in your website section. The content could be in text form, image, video, audio, animations, and visual effects. You can use one module in one section or a combination of different modules to level up your content display.
You can work around the modules from scratch or utilize the template library of Slider Revolution in WordPress. You will find templates for sliders, carousels, hero units, special effects, websites, posts, social media, and others.
Layers in Slider Revolution Plugin
When working on the templates, you will see different layers within the template. Each content element has its own layer, such as the text layer, audio file layer, video clip layer, animation, and VFX layer.
Edit each content element in the layer and replace it with your own content. Layers expand into slides. One slide has one or many layers depending on the content requirement of that slide. Similarly, a module is the combination of one or more sliders. Once you edit a layer that gets added to the slide, that slide is added to the module. Editing at this minor level gives you complete control of the designing part.

If you don't want to play around with the templates, then you can always start working on the section from scratch. Drag and drop the content elements where you like, create your own layers, combine them in one slide or multiple slides and add them to modules to see the complete look of the section.
What Does Slider Revolution Do?
Hero Unit
Hero units are a site-wide section of the website that is placed to leave a big impact on the page viewer. It is mostly placed on the website's header, but it can go on any section. You can apply one or multiple hero images, captions, transitions, animations, and visual effects into your Hero Unit.
Here are a few examples of Slider Revolution Demo Hero Units
Slider
In its true sense, a slider refers to a slideshow on a website. A slideshow could be of simple text, images, videos, or audio clips. You can have visually minimal to visually complex but beautiful slideshows. Slider Revolution gives you the option to choose different sizes of sliders; full-width, full-screen, or auto-sizing. All the sliders fully responsive because those are guidelines set by Google. Ample transitions between the sliders are available to choose from. With layer-level editing, you have endless possibilities to test your creative skills.
Here's an example of Slider Revolution Demo Sliders
Carousels
A carousel combines different elements if the content is displayed in a single view. It slides horizontally in a website section. You can display large content pieces in separate cards in a single carousel. With multiple size options, special effects, and layout settings, Slider Revolution Carousels, can woo your audience.
Here are a few examples of Slider Revolution Demo Carousels
Example 2
Dynamic Content in Slide Revolution Plugin
Social media feed posts, eCommerce products display, and website blogs come under dynamic content. These can be displayed in different sections of a website beautifully through the slider revolution. Showcase your latest posts' titles, post content, and featured image in a Slider Revolution module.
Here's an example of Slider Revolution Dynamic Content
Websites
Slider Revolution allows you to create a complete webpage using different sections such as sliders, carousels, blog post views, and social media post views. You create an award-winning responsive website by designing such pages in a compiled manner. And Slider Revolution websites are built using a modular, editable structure.
See the complete webpage built-in Slider Revolution
Want to know what sliders can do to your website? Discuss with our expert WordPress developers today.
How to Install the Revolution Slider Plugin in WordPress
Step 1
Purchase your preferred Slider Revolution Plugin plan from their official website. And once you log in after purchasing, download the Slide Revolution Zip File containing the plugin.
Step 2
Log in to your WordPress. Go to the Plugins option on the left sidebar. Then click on Add New. On the new page opened, click on upload Plugin option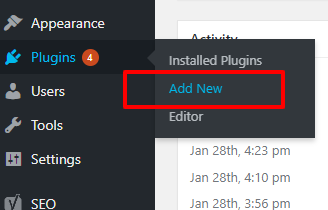 A dialog box will appear. Click on Choose File and choose the zip file that you downloaded from the Slider revolution website. And then click Install Now.

Once the Slide Revolution WordPress plugin is installed, activate and register it.