WordPress has decided to walk in new shoes. They are still trying to fit in to walk a long mile. Launched the beta version, the 'Built By WordPress' solution answered some of the old questions but also asked made us ask the new ones.
What is the Built By WordPress Solution
At the starting price of $4,900, WordPress lets its experts build your website for you. Currently, only three genres are covered.
Educational Websites: Educate your followers, students, teammates by having a platform where you upload your material, host webinar, upload courses, and do much more.
Professional Services Websites: A general company website showcasing your company, its products, and services. The website will come with marketing tools that assist in capturing, nurturing leads.
Online Stores: Jump into the eCommerce business to sell your products from your online store. Sell more products, accept payments securely, and do much more.
The beta version is available for these genres only. A dedicated project manager will be assigned to deliver you what you asked for from start to finish.
The launch received a mixed reaction from the WordPress development community.
A Not so Warm Welcome
All did not appreciate the move by WordPress. People compared WordPress with Amazon that is bringing everything under its roof and monopolizing. The word is that WordPress is competing with the agencies/companies offering WordPress development services. These agencies, for years, have provided WordPress services are feeling betrayed. The WordPress Community has played a massive role in building the platform that it is today. Now, when WordPress gained from it, it is leaving all those people high and dry by bringing development under its shed.
A Warm Welcome
A few have welcomed this move openly, hoping that this might expand their work's horizons and association with WordPress. With this new solution, more people will shift to WordPress, and the work opportunity will arise. Currently, plugins have supported WordPress hugely. Plugins the backbones of the platform. Whether it is a contact form, beautiful sliders, membership functions, you have plugins for all. Let's see how things change on a positive note.
WordPress founder Matt Mullenweg has clarified that the company launched this solution to compete with companies like Squarespace. It had all the right to compete with its competition. But the question is, will they compete at the cost of their community?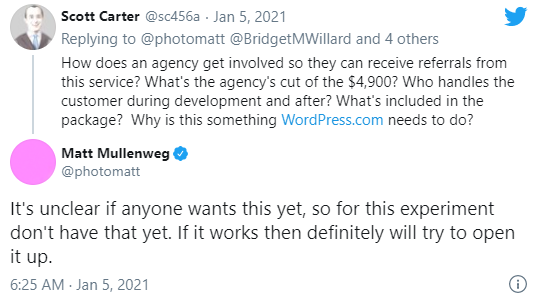 As this is still in its beta stage, an experimental journey, we can't say which way this goes.
Will this built by WordPress beta version ever see the full light of the day and fully launched?
Once launched, will it benefit the current development community? If yes, then how?
What if the 'Built by WordPress' solution does more harm than good to the WordPress community?
We are yet to find the answers to these.
WordPress will market its service/solution for sure. And, if this ever gets launched as complete version, the independent WordPress developers and the agencies will have to work their way to not let their share of work get hampered.