Finding a HubSpot developer that fits the job role is a tough nut to crack. And, you are not the only one still cracking that nut.
As per the study conducted by the ManpowerGroup, 72.8% of the employers face difficulty in finding the employees matching the required skills, and HubSpot development skills are no exception.
We all know 'Charity Begins at Home'. This time, let's begin recruiting at home and home here is HubSpot. Leverage HubSpot's network, communities, and groups to begin your search for the best HubSpot developer because another stat report by Officevibe suggests that the best candidates are off the market within 10 days. So, buckle up, let's go recruiting.
HubMatch
HubMatch is, LinkedIn for HubSpot certified professionals and agencies, minus the social media feature. HubMatch is the marketplace where the HubSpot users connect with HubSpot agencies and HubSpot freelance professionals.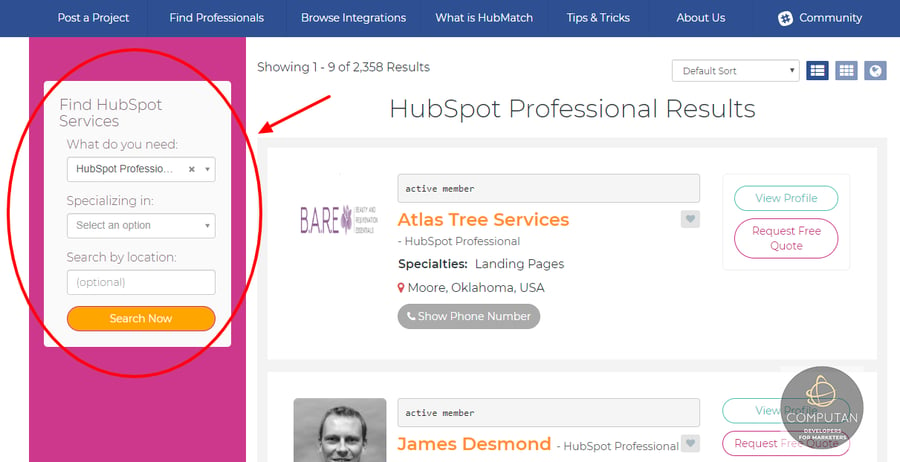 Three easy filter options to use for targeted search results. It lets you find professionals, explore their profiles to see their contact information and specialties. Once you shortlist your candidates, establish a connection with them, schedule an interview and see if they qualify.
However, if you don't find what you are looking for, try this in your HubSpot developer recruiting journey. 
HubSpot Certified Agencies
It cannot get more authentic. HubSpot certified agencies are your go-to option to find HubSpot developers. Each partner agency is structured differently. A few agencies have an in-house team of developers and some don't. Explore the agency profile to see whether it has the pool of talent that you are looking for.
HubSpot Official Agency Partner Program Group
This Facebook group is available for HubSpot certified partners. If you are one, this is your second place where you can put the job opening for a HubSpot developer and ask for references from the group members. If you are not a HubSpot certified agency or partner, skip this one.
Now, let's explore your options outside the HubSpot ecosystem
LinkedIn
The global player in digital recruiting that single-handedly eliminated paper resumes is LinkedIn. And, LinkedIn Recruiter is just icing on the cake for recruiters. LinkedIn hosts the pool of HubSpot developers, writers, integrators, marketers, technicians, managers and what not.
75% of the recruiters say that they are more successful in hiring through LinkedIn Recruiter than any other platform.
LinkedIn allows you to post a job directly. Post a job opening for the position of HubSpot developer

m

ention the list of tasks and responsibilities along with any specific terms and conditions.

Apart from posting the job, you can search for the right candidate using the keywords related to the job position, role or the skills you are looking for. To find HubSpot developers, you know that the right keywords are 'HubSpot' 'developer', you may or may use 'certified'.

LinkedIn groups of HubSpot developers,

similar to

HubSpot communities and groups, have tons of professionals looking for the right opportunity. Leverage their enormous networking power. You will

even f

ind the non-certified HubSpot developers in these groups.

If you want to fill in the position quickly and want to full throttle your

LinkedIn

recruiting, then you can take up premium features which are paid. Unlock the premium features and you will have the best candidates before your competitors grab them.
This was just LinkedIn; we haven't started with LinkedIn Recruiter yet, which is whole new ball game.
LinkedIn Recruiter
LinkedIn surely understands the pain the employers go through while finding the right talent, thus it developed LinkedIn Recruiter with tools and features supercharging the recruiting process.
Ideal Candidate Match: If you have a LinkedIn profile link of an ideal HubSpot developer (he/she might be working in your company) then you can find similar profiles keeping that profile as a benchmark.
Guided Search: As soon as you start typing in the search bar, it shows you the saved results and the results based on the previous search queries. The recruiters don't have to start from zero every time they search for a candidate.
Bag of Tools: InMail, email tools, job posting, advanced filters, to-do list management among others are pretty hand to use that can aide your recruiting process if you use them well.
Personalized Folder: LinkedIn Recruiter users get a personalized folder where they can save the data related to shortlisted candidates, or saved searches. Users can even share the folder with team members.
ATS: If you use an Applicant Tracking System, you can easily integrate it with your LinkedIn Recruiter and bring your inventory in one place.
LinkedIn can be overwhelming for some people. Every employer might not find every tool useful. So, for those looking for an easy way to find a HubSpot developer, we have a few options for you.
Direct Hiring Websites
Freelancer websites or direct hiring websites have been in the place for quite a while now and doing a pretty decent job in connecting the employers and employees.
Flexibility, a wide spectrum of profile categories, and ease of hiring are some of the perks of these platforms. Let's dig deep…
Upwork
Upwork has helped companies like Microsoft and Airbnb hire the right people for their projects.
Create an Employer's profile filling all the details and you are ready to search.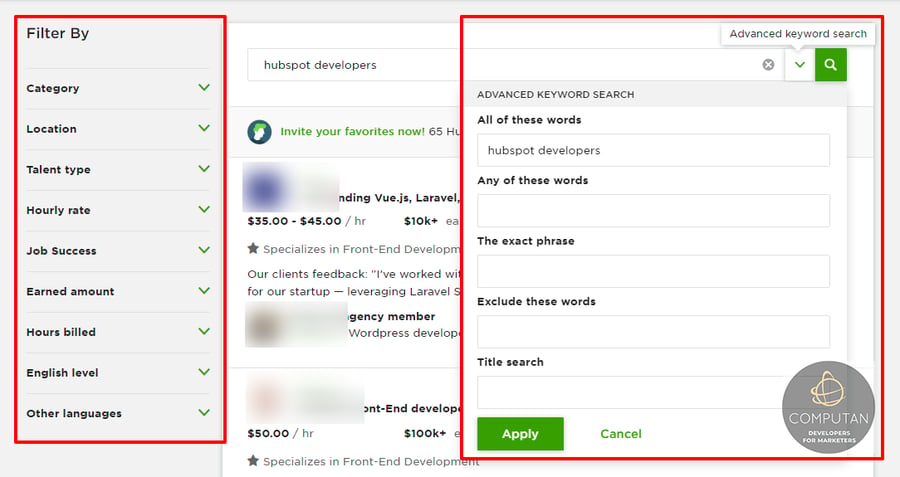 Same as LinkedIn, Upwork also helps you with its advanced keywords search and filters for a more directed search saving time and effort.
Here's what the search results for 'HubSpot Developers' look like...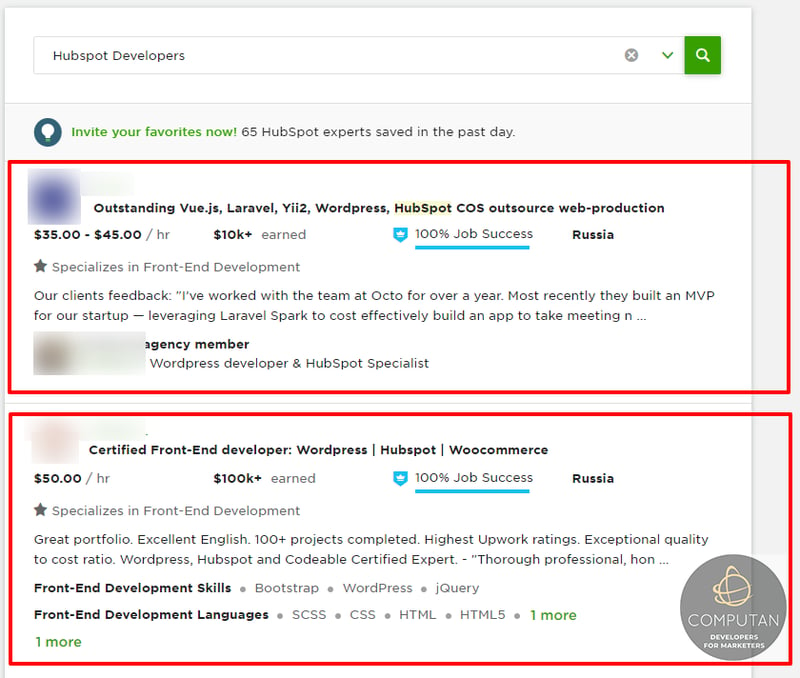 Profiles on Upwork contain sections such as specialized skills, portfolio, hourly or fixed price, availability all in one place. The profile data help you shortlist the candidates based on your requirements.
Similar to Upwork, you do have People Per Hour, Freelancer. You create a profile, fill the asked details and you are ready to search and hire the talent of your choice. HubSpot developers (certified and non-certified) can be easily found, contacted and hired directly on these portals.
Let us know in the comment section which platforms do you use most to hire HubSpot developers. We would love to hear your inputs.
Stay tuned if you want to know how to separate the good HubSpot developers from the available pool.