This is an experiment-based comparison between PandaDoc and Proposify. I built the same business proposal page in PandaDoc and Proposify to compare the feature, ease of use, navigation among other parameters.
Let's begin
Screen Overview
The document/template editing screen in both the tools has the page element section on the right side of the screen from where you can drag and drop different elements on the page. The content formatting section is at the top.
In PandaDoc, you will see the section divided into Blocks and Fields. Blocks are the modules or elements used to design your page. Fields are the sections that you want your recipients to fill in. Fields boxes range from text, signature, initials, date, checkbox, Dropdown, card details.
Proposify gives you the signature, initials, and custom Input Form as the recipient-end features.
Image
I started off with a blank page (not the cover page) to design my one-page business proposal. I wanted to place a banner at the top. So, I inserted an image in PandaDoc as well as Proposify. Proposify gave me more options to edit the image. I could crop the image, add filters, and tweak the brightness, contrast, saturation, and hue. These in-the-software options are enough to edit the image how you want.
PandaDoc doesn't even allow you to crop the image. So, you have to edit the image using third-party software.
Next, I wanted a good bold title on the image, which is easy to do in Proposify. However, PandaDoc doesn't allow you to put text on the image. I confirmed it with PandaDoc Support, who said that PandaDoc only allows you to put text on the image on the cover page. Such a feature is not available on any other page.
So, if you love graphic-rich documents, you will have more creative freedom in Proposify than in PandaDoc.
No Image Editing Options in PandaDoc except for resizing.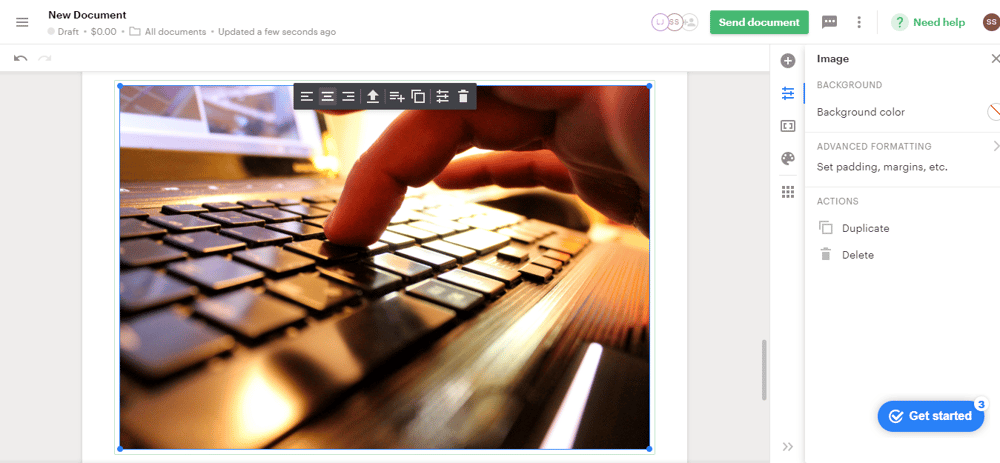 Ample image editing options in Proposify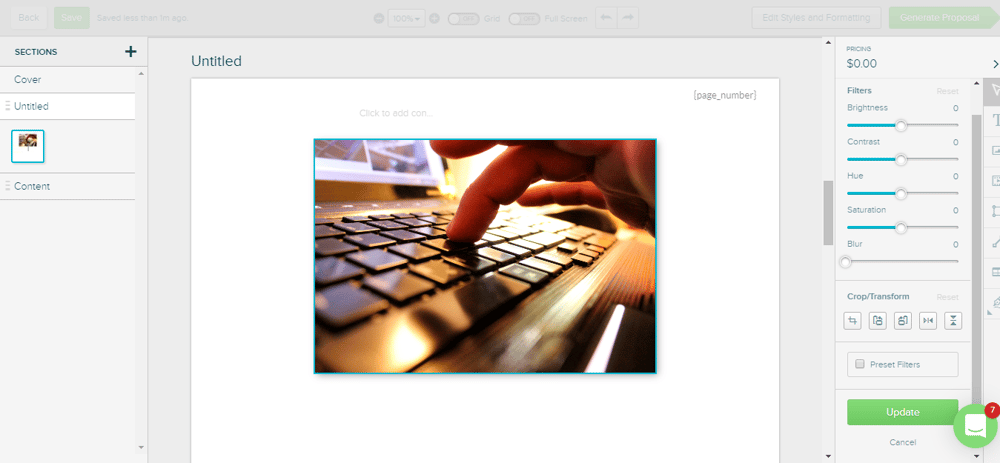 Text on the image in PandaDoc only available on regular pages so I added the text on the side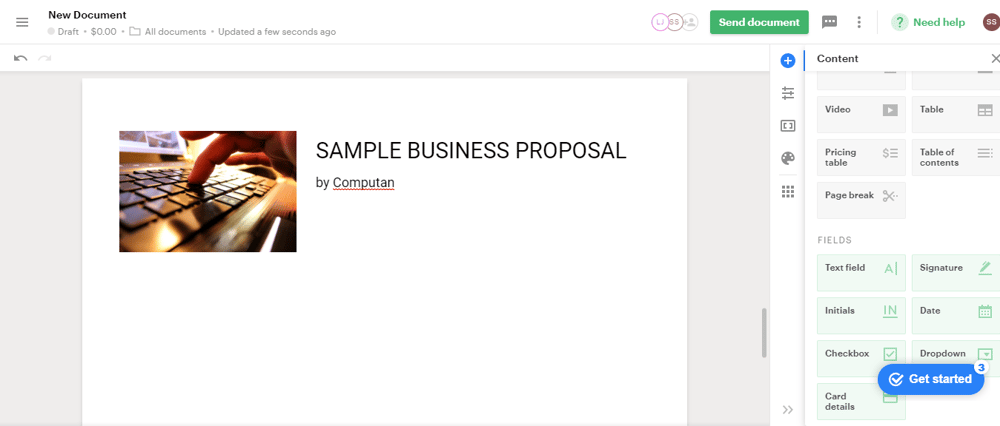 Edited image and text on the image in Proposify. All done in Proposify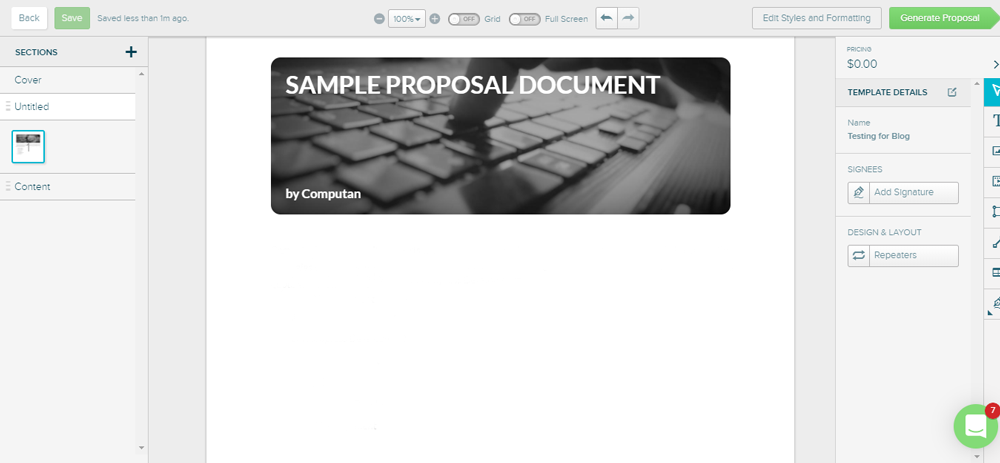 Body Text
The body text features are almost similar. Easy editing options are available in both tools.
PandaDoc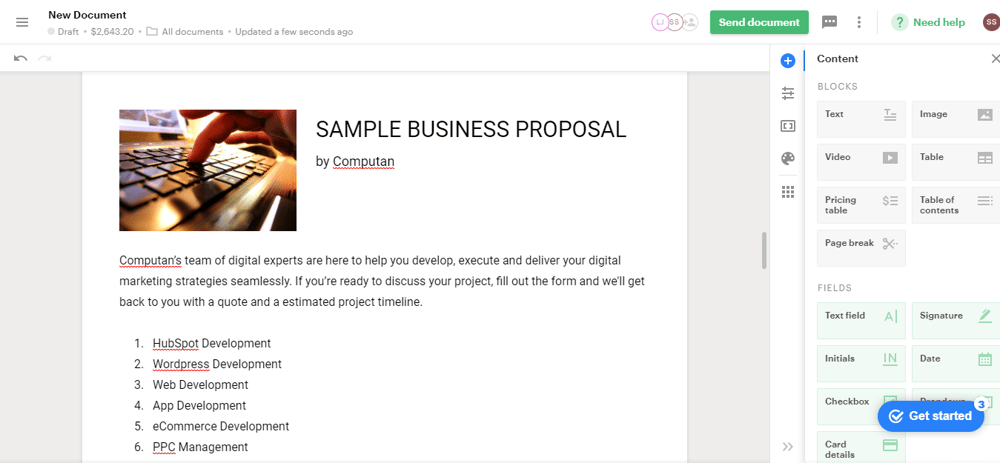 Proposify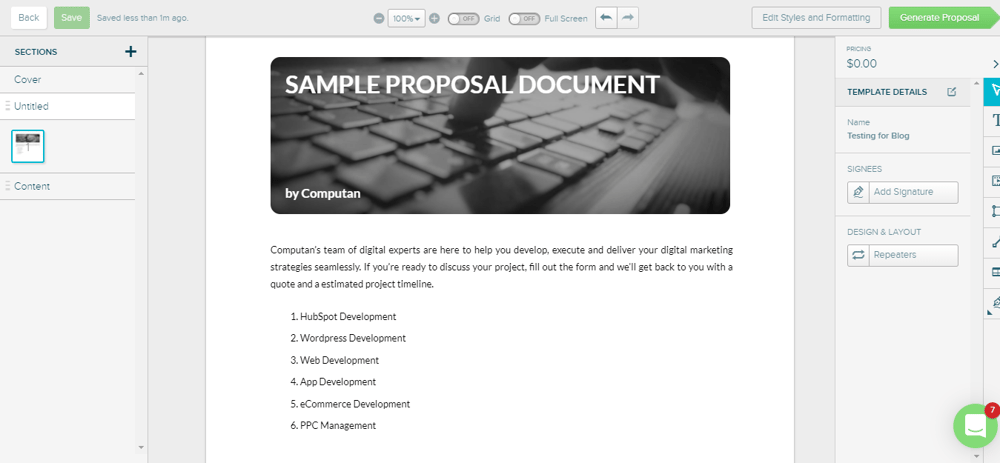 Table
Just for the sake of checking, I inserted a table in both documents. Both were decent. However, Proposify gives you more editing options to change the visuals and dimensions of the table. I edited it to match Computan's branding colors. The discount and tax options are also available in both tools.
Initial PandaDoc Table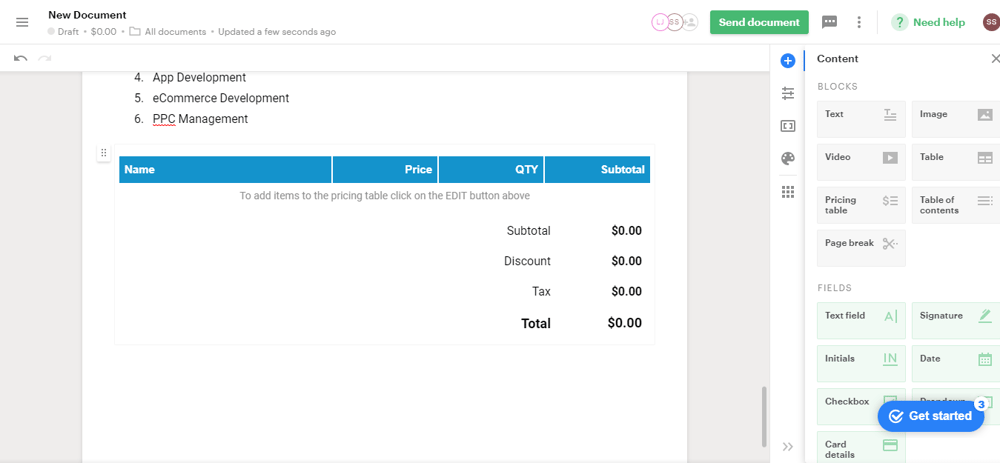 Final PandaDoc Table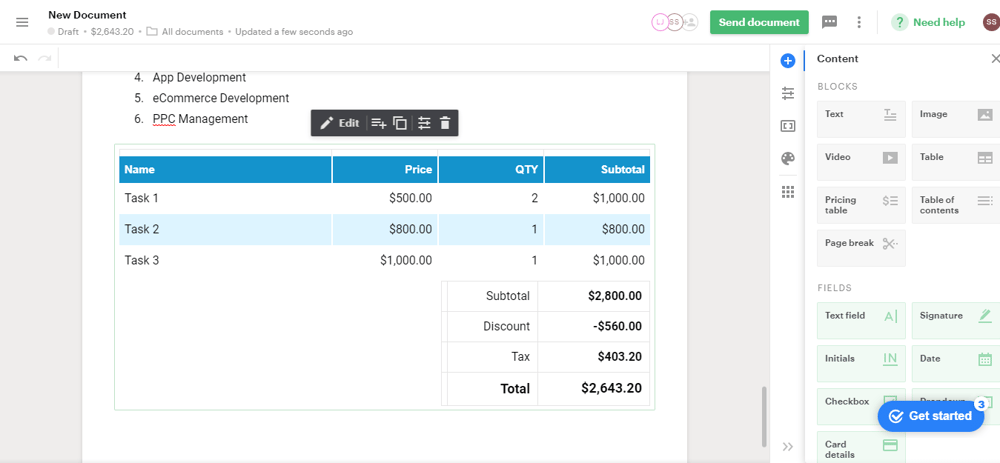 Initial Proposify Table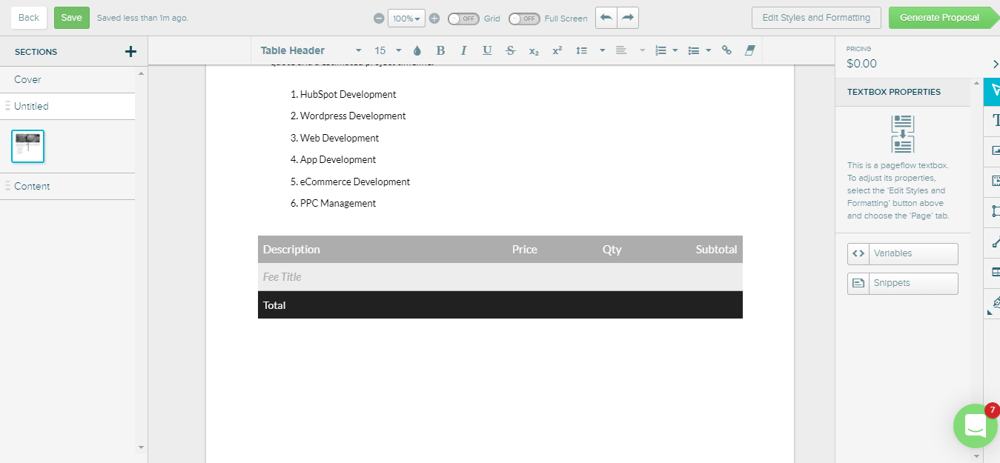 Final Proposify Table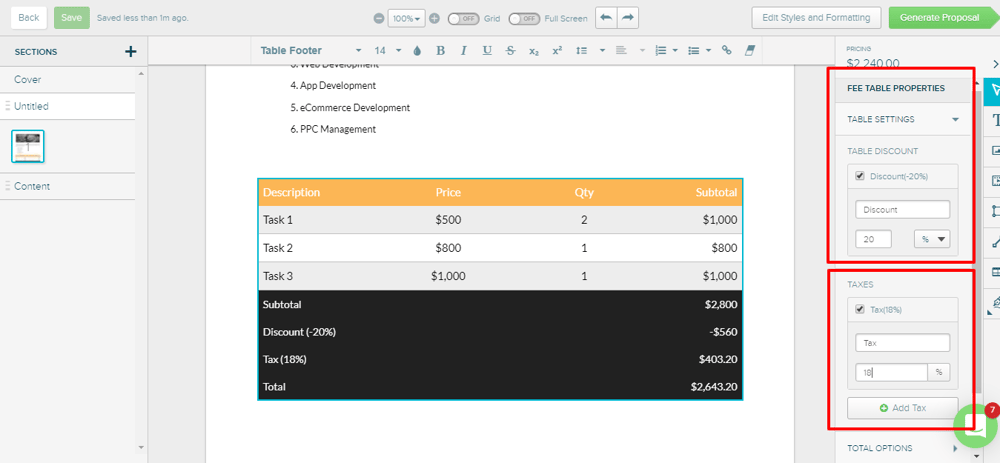 Variables
Variables are the tools that allow you to insert the text in the documents that frequently occur in the documents, such as your company name, client's name, the sender's name, and contact information. Inserting variables in the documents saves you time.
You can custom-modify the variables as per your requirements in both tools. However, working out new custom-made variables is easier in PandaDoc than in Proposify.
In PandaDoc, you can create the variables without exiting your template or document. In Proposify, you have to make the variables at the backend first and then apply them to the document.
PandaDoc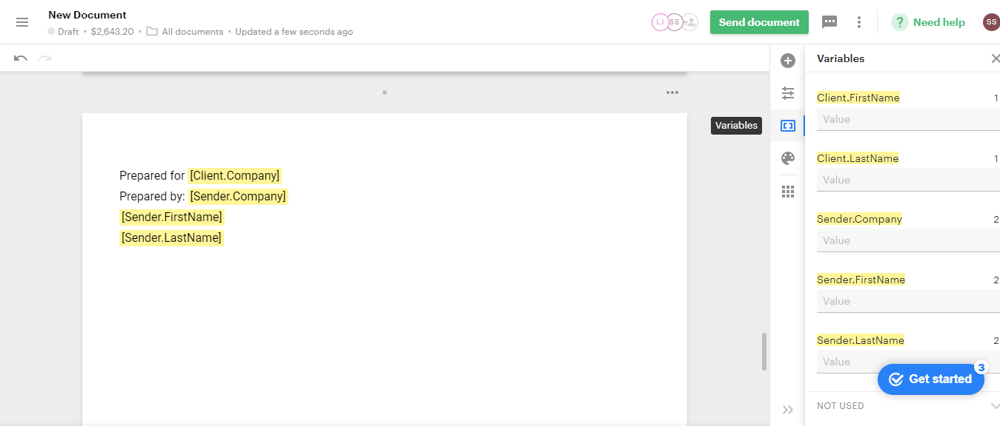 Proposify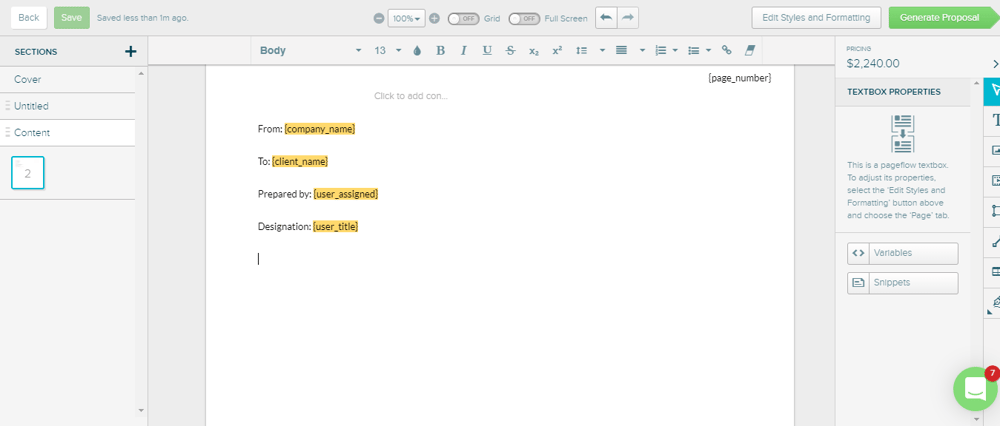 You can either generate variables by pressing shift+# together or from the right sidebar in Proposify.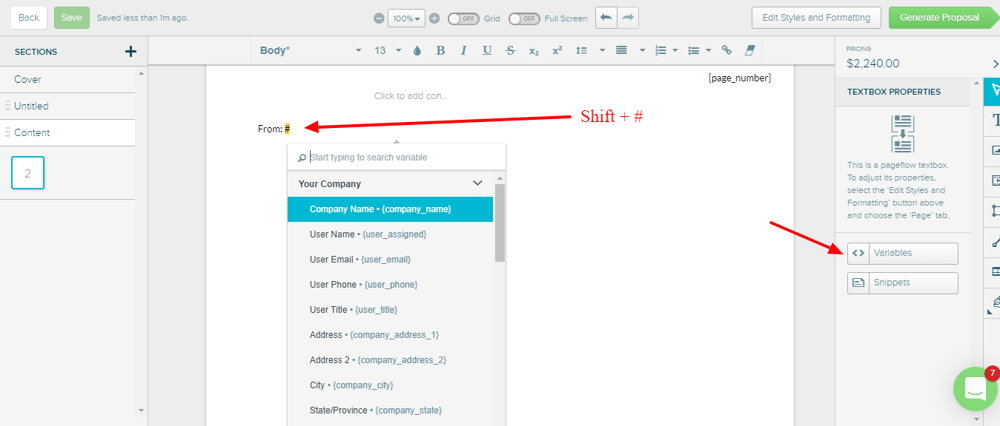 Easy Steps to create variables in Proposify
Easy Steps to create variables in PandaDoc
Signatures
The signature sections in PandaDoc and Proposify come with easy drag-and-drop options.
PandaDoc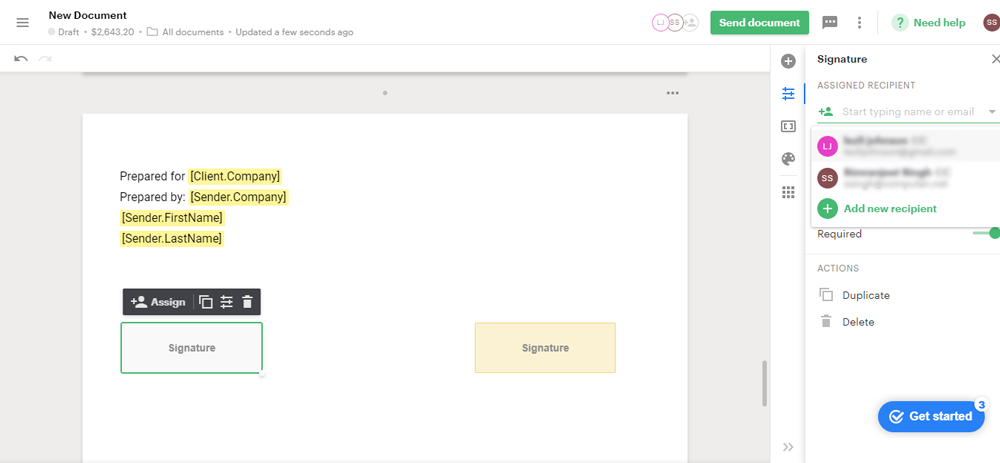 Signature creating options in PandaDoc: You can draw your own signature, choose a type form or upload the image of your actual signatures from your computer.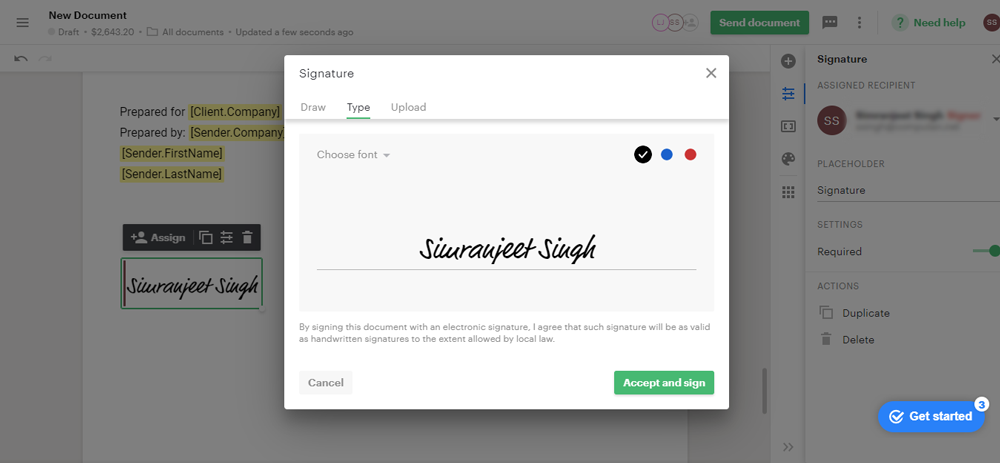 Proposify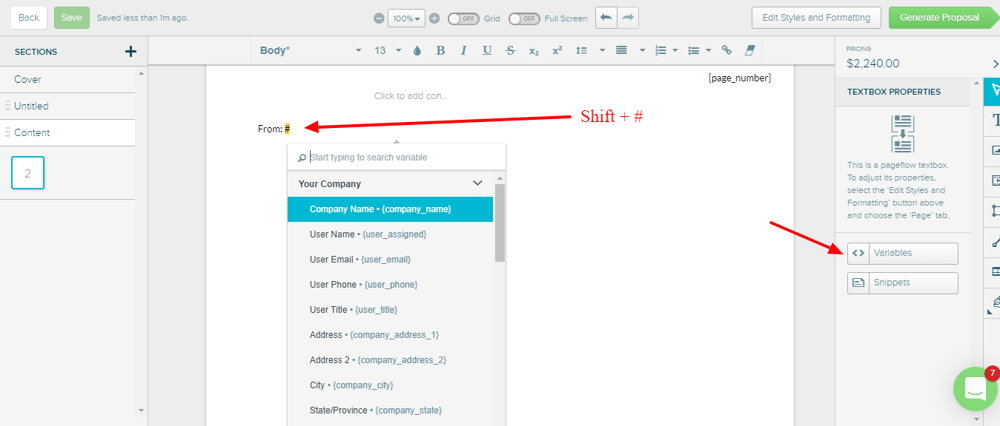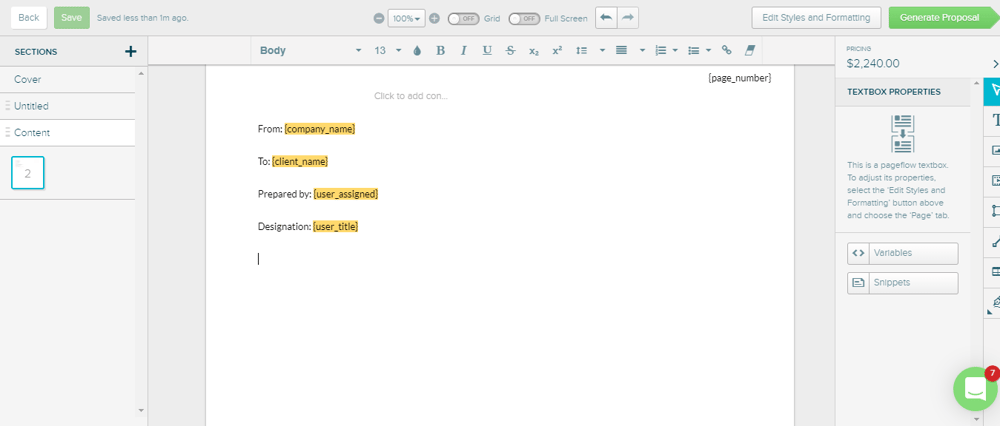 Steps to assign signees in Proposify
Table of Contents
Table of Contents lets viewers know the topics and the corresponding page numbers easily. This feature is available in PandaDoc with an easy drag-and-drop option. 
You give H1, H2, H3, and corresponding tags to the heading on each page. And, once you insert the Table of Content block after the front page, it automatically picks the heading tags from the pages and the page numbers (if you have auto-numbered the pages in the settings). The TOC feature also makes the titles clickable to redirect to that page with a single click. In Proposify, you have to do it manually.
Snippets
Snippets feature is available in Proposify. It allows you to create and save a certain portion of text from the document which you don't want to display for a particular recipient but could be used in future proposals. You can remove those snippets and add them back again.
In the image below, I created a snippet of the bullet points which I can remove or add anytime, anywhere, and in any document.
In a Nutshell
PandaDoc is a workflow management tool, a proposal generation tool, and has CPQ – Configuring Price Quote functionality.

Except for workflow management, all the features are similar to PandaDoc's in Proposify

Proposify is creatively more open in image and table editing, allowing you to create more beautiful and professional proposals.

Features like a signature, and variables are easy to use in PandaDoc so you can play around with these easily.

Proposify's snippets feature gives your major content customization options for multiple documents.

PandaDoc's Table of Content feature is useful for long documents with multiple sections.
Computan uses Proposify because its integration features align well with its technology stack. We were looking at the price and the partner program of both. We got to a demo quicker with Proposify and also with their partner program being a bit smaller we felt we could get a bigger footprint there. Proposify also had a certification program.
So, who wins at the end?
The competition is neck to neck. I personally liked PandaDoc because I know and use Photoshop regularly. But, I think in general comparison, Proposify wins this battle for two major reasons
You don't need additional designing software for image editing on any page. So, marketers who want to make brilliant and appealing proposals but don't have the designing skills can easily make their way through Proposify.

The backlogs of Proposify are counterweighed by the fact that any software you use regularly becomes handy. Both are equally easy to use when used regularly, but Proposify has the creative edge over PandaDoc.
If you enjoyed reading this, you would enjoy a blog comparing Shopify and Snipcart.