HubSpot launched CMS Hub to shift the marketers' focus toward the customers by making the CMS of their website easy to use even the website touches a great depth on functionality demands.
CMS Hub is the fourth Hub in the HubSpot Hub family: Service Hub, Marketing Hub, and Sales Hub are the senior members of the family. Each year, HubSpot keeps on improving its platform. Initially, it was tough to run even a small-scale eCommerce store on HubSpot, But today, it is possible, thanks to Shopify and other e-commerce providers that you can integrate with HubSpot. HubSpot CMS Hub is the right step in the direction of growth.
HubSpot CMS Hub is available in two tiers: CMS Hub Professional and a CMS Hub Enterprise
CMS Hub Professional Tier
The CMS Hub for Professional Tier focuses on serving the fast-growing companies covering Maintenance and Management of the website and giving amazing content experience.
The 24-hour security team and built-in application firewall make the website and the CMS safe, fast, and reliable.
With easy editing options without efforts, marketers can finish off the nitty-gritty work themselves leaving the developers to do all the next-level stuff that the marketers' dream of having on their website.
If you enjoyed editing your WordPress website through WPBakery and Elementor, you are going to love Hubspot CMS Hub as well. Theme-based website building and drag and drop options to create a website are the major editions in the CMS Hub. With these options available HubSpot is on its way to grab the mass audience as it has eliminated a major difference factor in Comparison with WordPress.
Get Started with the HubSpot CMS Hub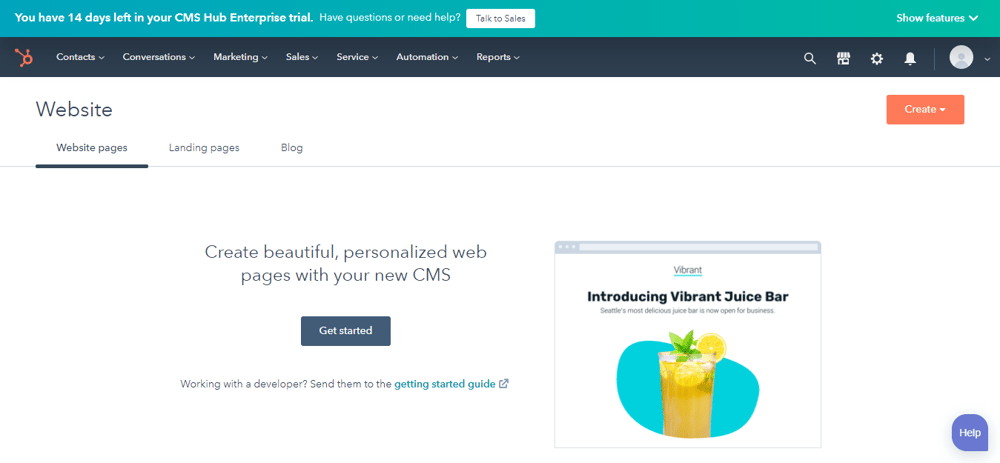 HubSpot displays the available themes. You can view separates pages in the Marketplace as well.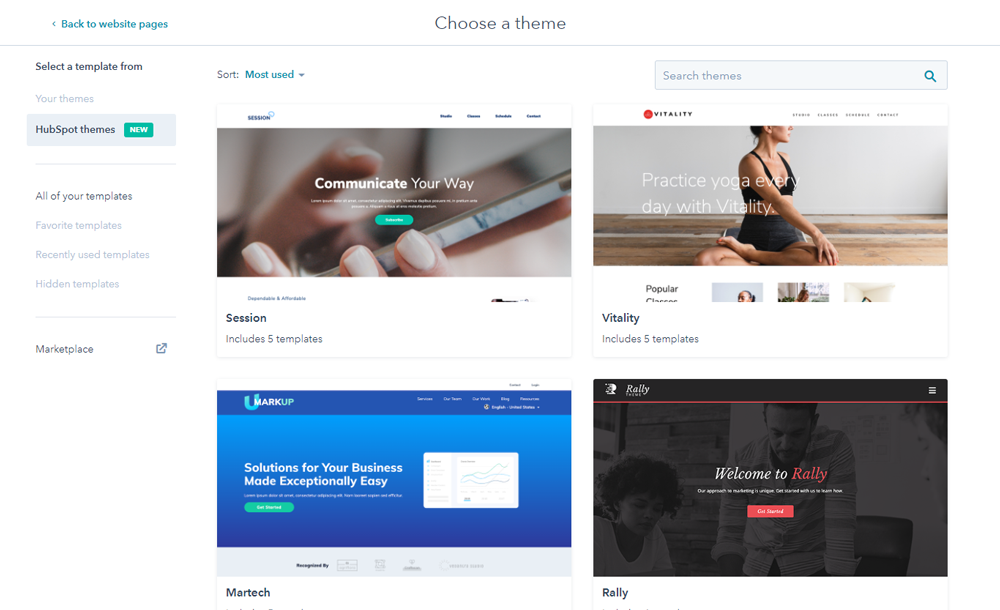 WP Bakery and Elementor Style Editing Options in HubSpot CMS Hub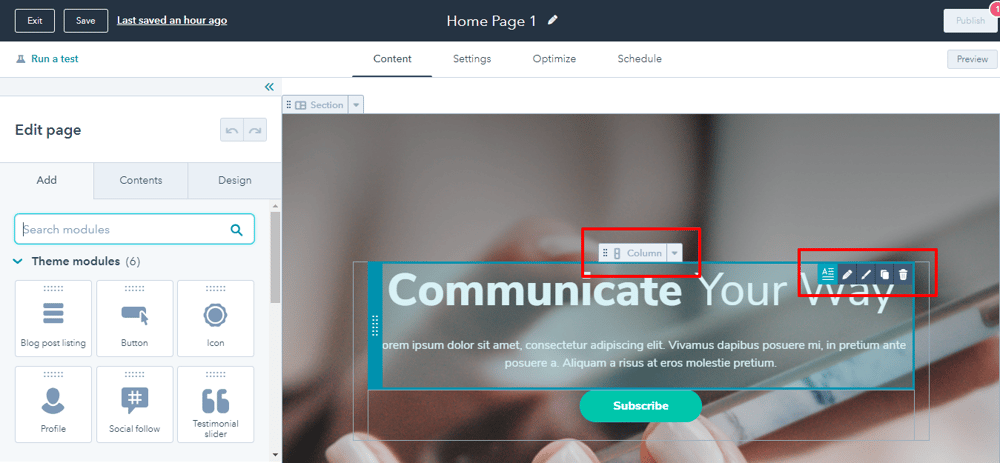 Computan's Senior HubSpot Developer, Shaban Sarfraz shares his thoughts on the new HubSpot CMS Hub
"As the theme builder, it looks like good stuff and I am checking this out. But like HS is saying that marketers can make web applications, it can partially be possible. For example, now many marketers can do a lot of the heavy lifting on their own but where they face any issues they call us. Agencies might not need a developer to build a whole site anymore. 
In the end, every marketer will need some custom stuff to do, so they will need us (developer). Basically, HS is making a theme marketplace the same as WP. We have a WP theme available we can use and customize.  Also, same as WP we can create custom themes if a client requires its own JS, CSS, and modules."
Previously, it was the Design Manager where all template editing happened in HubSpot. Marketers would hunt for the right module edit and not affect other pages and templates where it is placed. Easy module editing is available in CMS Hub through the Global Content Editor, which is not as confusing as the design manager for the marketers. If you are working around a theme, then simply choose from the available themes and pages, make minor adjustments as per your branding guidelines using drag and drop options, and change the global modules through the global content editor if you want to and you are done.
Here's what Global Content Editor looks like in HubSpot CMS Hub
And, of course, if the marketers are stuck anywhere, the HubSpot developers from the HubSpot agency partners can get them out of there.
It surely makes things easier for the marketers, but does it also make things easy for the developers? Let, see what Zeeshan Ibrar, a Senior HubSpot Developer at Computan has to say about this.
"No, it would not affect the time for developers, it is for the marketers. Developers will create a theme as they do for the clients except that they will create a directory with CLI which will have a tag of the theme. And once the marketers create a page they will have the option to use a custom template or a template from a theme. Theme directory will have its own CSS, JS, and custom modules."
List of Modules in HubSpot CMS Hub
HubSpot CMS Hub Enterprise Tier
HubSpot CMS Hub Enterprise Tier includes all the stuff mentioned in Professional Tier in addition to the powerful web app making solutions targeting mid and large-scale enterprises looking to scale up. Multiple websites, multiple brand domain uploading options are available. Then we have server-less functions, membership functionality, and learning management systems, calculators embedded in the Enterprise Tier.
And, HubDb is available in both tiers for dynamic content lovers. Pixel for pixel website cloning is also a new feature HubSpot added for the seamless migration of your website from any other platform.
In a Nutshell
CMS Hub has something for marketers and developers.

Themes and drag and drop editing options without the code are right in the footsteps of WP Bakery and Elementor. It changes the complete editing experience on HubSpot.

Global Content Editor in place of Design Manager

Pixel for pixel clone of your website from any other platform
In our opinion, the HubSpot CMS Hub is a lot like Bootstrap. HubSpot is putting many themes, some of which are free and some are paid in the market, but a person who knows the website can put their content in it and use it. Similarly, HS also has many themes, but if we talk about the drag and drop builder, then marketers should have knowledge about templates, custom modules, global modules, and coded files. There could be big problems if marketers don't know enough about the role of global modules.
Where do Developers Fit In With The New HubSpot CMS Hub?
Frontend, HubSpot developers will be two-tiered - those who can customize a theme in the CMS Hub and those who can build a theme from scratch. Very similar to what is currently in place in the WordPress dev community. When a HubSpot CMS Hub Developer knows a particular theme well they can spin it up and do light customization to it easily. However, there will still be a need for HubSpot template developers that can build templates from scratch based on a marketer's design. Generally, there will continue to be a place for both.