You can make an informed decision once you compare Shopify and Woocommerce and segment the pros and cons of both. Don't skip to the end of the blog as the devil is always in the details between the lines.
WooCommerce

Sell anything, anywhere because WooCommerce is open source and the best eCommerce platform for WordPress.
Pros of WooCommerce
It is a free plugin for WordPress, that's a pro. The support services are not as great as Shopify's. So, most of the time, you are on your own if you don't have a dedicated team of developers. But, that's okay as you save money on a partially free platform and you spend it to cover the cons of expensive usage fees. It is partially free because you still pay for the hosting and you will probably need ongoing development support.
You can customize everything with Woocommerce. Shopify, being a proprietary tool, makes full customization a bit more difficult. Sure, you can build Shopify apps, customize pages, etc, but it's harder to do and harder to find skilled talent in those areas. This feature can go both ways. Less flexibility and open-endedness mean less can also go wrong.
With so many editing and customization options on WooCommerce, anything can go wrong and hence the need for an experienced WooCommerce development team.
WooCommerce is built with WordPress and we all are aware of how strong its huge community is which makes it one of the best eCommerce platforms for developers. That covers up for any perceived lack of customer support for WooCommerce. Being a dedicated blogging platform, WordPress + WooCommerce can easily handle content marketing and SEO.
Cons of WooCommerce
Without experienced developers, you might face technical difficulties with WooCommerce. Users have complained that their checkout page stopped responding, the checkout button stopped responding suddenly on a random day.
Managing ongoing hosting and security updates are a challenge to. These issues do cost a lot of business because you are not notified about these sudden issues. Having a dedicated WooCommerce developer will reduce downtime.
You have fewer integration options with WooCommerce as compared to Shopify.
There are 383 official extensions on WooCommerce Website available for integration compared to 2424 official apps on Shopify app store.


There's a lot of functionality you can achieve with Shopify, which is not there in WooCommerce.
You can set up payment through Paypal or Stripe. Both charge 2.9% fee.
Security is definitely one of the cons here as 41% of hacked WordPress were hacked through a security vulnerability on their hosting platform, 29% were hacked via a security issue in the WordPress Theme they were using, 22% were hacked via a security issue in the WordPress Plugins they were using, 8% were hacked because they had a weak password. Stats as per wpwhitesecurity
Shopify

Shopify definitely makes e-commerce easy, but at a huge cost.
Pros of Shopify
Shopify is a great eCommerce platform with lots of good and professionally built templates. As it is solely built for the e-commerce market, the developers have put everything in it to make things easy even for the newbies. And, if you are stuck at any point, Shopify has 24/7 customer support to resolve your queries. The user has the option of chat, email, call, or tweet to connect with customer support.
Shopify offers you add-ons and apps for everything. With impressive integration solutions, you can bring a premium feel to the e-commerce store. Every penny you spend on Shopify is worth it as you get professional solutions. Their blog is also world-famous for helping business owners sell more products online. The bottom line is this if you are tech-savvy, not a developer, but just tech-savvy, you can have a business online with Shopify within a day. Simple as that.
Cons of Shopify
Ah, the cost of user-friendliness. Shopify is expensive. The operational and maintenance costs are way high than WooCommerce. So, in the beginning, days of your e-commerce business, you might have to spend a lot to keep your website up and running.
Talking about keeping the website up and running, Shopify can shut down the website anytime because they own it. If you are selling a product that is a little bit controversial in your country, Shopify won't hesitate to shut your website down.
Shopify does have good in-built add-ons and apps, but the third-party apps are expensive. So, for some users, the added premium feel of Shopify websites comes at a cost.
For every sale you make on Shopify through a credit card, the platform charges a 2.9% fee. The transaction fee is on both platforms. On WooCommerce, the credit card providers charge the transaction fee. On Shopify, you pay that directly to Shopify since Shopify has its own payment processor (Shopify Payments) in addition to others that you can use.
Pricing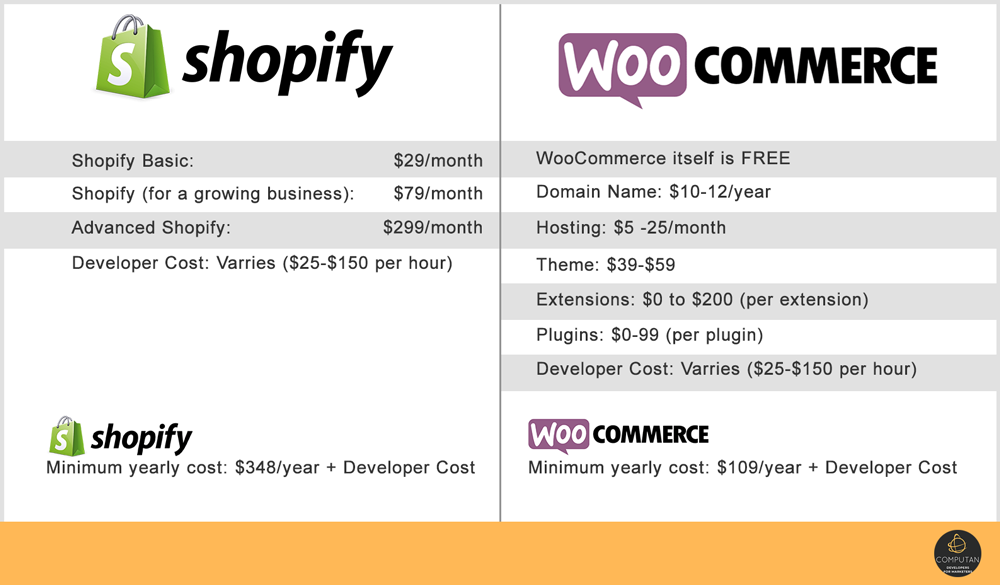 So WooCommerce Vs Shopify – Which One Is Better?
Personal preferences based on the business model and stage win the argument here.
If you have extra bucks that you can spend on a professional website that is secure, reliable and face fewer issues, Shopify is in your league.
If you have a low budget, and you have developers who can handle the WooCommerce website or you want to have multiple websites, then WooCommerce makes a lot of sense to your business model.

At Computan, we generally recommend businesses go the Shopify route because you can even run your eCommerce store on HubSpot using Shopify. Most clients win with ease of use and are happy with how fast they can be set up for eCommerce. Developers that are skilled in Shopify like that they can flex their muscles a little and build custom features and apps to extend the offering as well. Sure, it costs more than WooCommerce but there is no better feeling than peace of mind that your website is going to be up, a child can manage it if needed, and if there is any real special functionality needed that it can be built. We love WooCommerce, but if you're serious about winning business online you need to be on Shopify.