A lot goes behind building a webpage that catches users' attention, engages them to take action, and follows Google's guidelines. Even if you are an SEO expert, you cannot manually check all the parameters on all your web pages. Google Analytics is the most famous analytical tool to check your website's performance and help the SEO experts in many ways. But for HubSpot websites, HubSpot Analytics is an equally good tool that does the job well. Even the non-marketers can have a glimpse of their website and improve performance significantly.
Since we are writing solely on website traffic, the HubSpot analytics tool highlights the traffic behavior on your website. Based on the report, you can tweak your website for better performance. It's a one-stop tool for website optimization and a good reason to move your website to HubSpot as it is a complete CMS for your business needs.
To Access HubSpot Analytics, go to Reports in the top bar and then click on Analytics tool.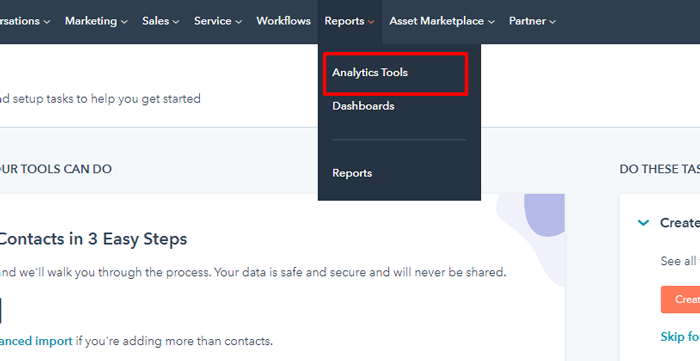 The HubSpot Analytics Tool Page
Sales Analytics: It gives you insightful data on your sales pipeline to help sales reps forecast the performance and make changes to the campaign accordingly.
Traffic Analytics:
Tracks source of the traffic

Traffic behavior on the website

Device, country, and browser type
Contact Analytics:
See the course
Lifecycle stage
Country
Create Date and other fields regarding your HubSpot contacts.
Forms: See how all your forms are performing on your website. See the best performing form fields, CTA button texts, and other elements.
Custom Behavioral Events:
View visitor engagement with your brand on or off HubSpot.

Track everything from login to download.

Create custom events to track specific goals.
Campaign Analytics:
See how many new contacts engaged
Deals closed
Influenced contacts
Other metrics from your marketing campaigns.
Sales Content Analytics:
See the performance of your sales content assets, templates, sequences.
Click on the Traffic Analytics option.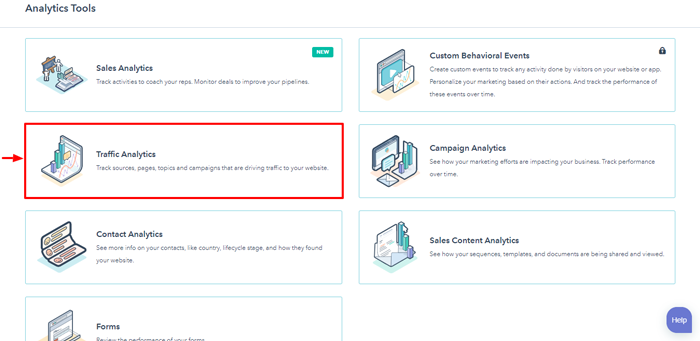 The SEO Report parameters are placed on the top bar, namely Sources, Topic Clusters, Pages, UTM Parameters, Countries, Browsers, and Device Types.
You can set the Date Range and Frequency of the data you want to view from the top options.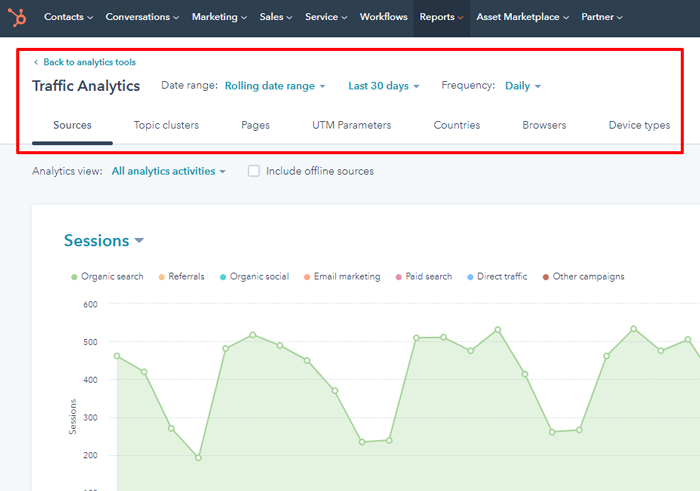 The graph below the top option can display Sessions, New Visitor Sessions, Bounce Rate, Customers, Page Views, among other options. Choose the one you want to display.
Sessions: Sessions include multiple activities by a visitor on your website. Activities include normal page viewing, clicking on CTAs, taking action under events, and more.
How to Increase User Sessions?
Answer: To increase user sessions on your website, build an impressive design, improve the text, make it visually appealing with well-optimized images, and have clear CTAs on your page. The more time people spend on your webpage better the session results are. And, people spend more time on the webpage that is interesting.
Bounce Rate: Bounce Rate is the percentage of people opening your web page and leaving without taking any action. Lower the bounce rate, better the page quality.
How to Decrease Bounce Rate?
Answer: Increase page loading time by optimizing images and minifying JavaScript and CSS. Bounce rate is also directly proportional to user experience. If the user has a good experience on your webpage, they are likely to spend more time on your website. You can also interlink content to keep the users on your website. This will decrease the bounce rate. Place the modules for the recent and the most popular content on your website.
The other parameters are related to these two basic ones. If you take care of Bounce Rate and Sessions, the rest of the parameters will be taken care of automatically.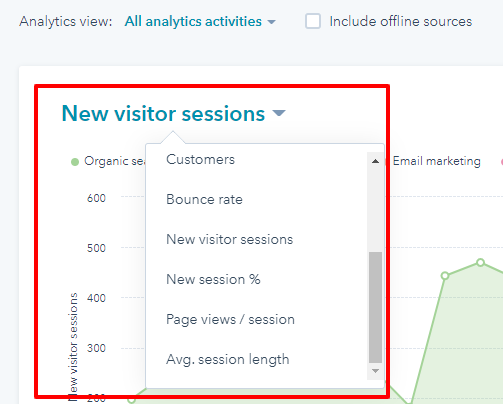 The Sources Report
The Sources Report tells about the various sources from where the website is getting traffic.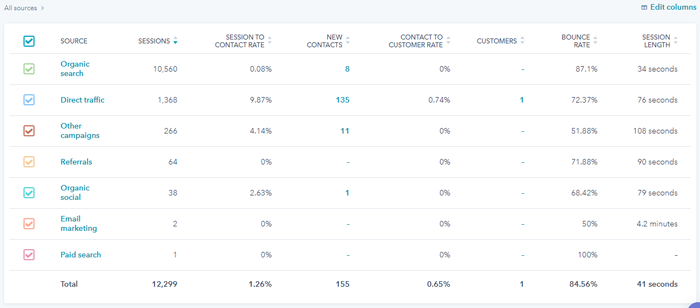 The table shows that the source of the website's maximum traffic sessions is Organic Search. This means that traffic on the website has arrived from the search engine results.
Organic search gets the boost if your website's SEO is good and has good quality backlinks hitting your website. If Organic Search gives you low numbers, you need to work on your SEO and link-building strategy.
If your organic social traffic is low, that means you need to focus on and improve your social media marketing.
If your paid campaigns are not giving you good numbers, you need to revise your strategy.
Most Visited Pages
Now that you know where you are getting the maximum traffic, it's time to know what pages are spending most of their time and which pages are getting maximum visits.
Look closely at the most visited pages and pages with maximum time per pageview. Repeat what's working best on your website. Also, interlink the pages to share traffic. All these little efforts make an impact on a large scale.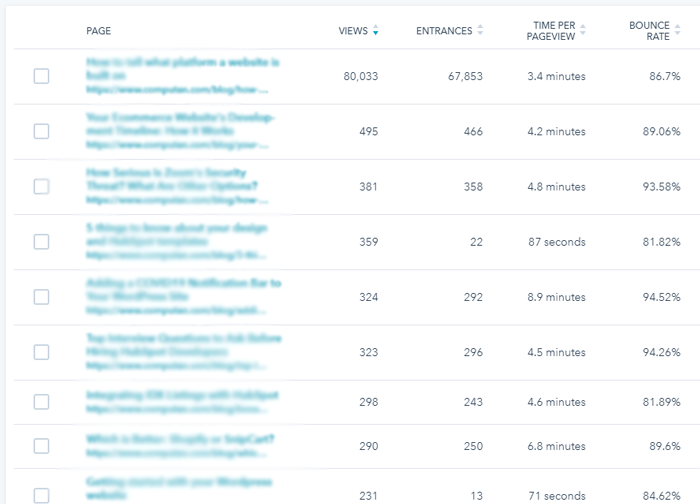 Device Type and Country
Device Type: The device type report showcases that from which devices the users are accessing your website. This report is important as if you see a sudden drop in mobile traffic than desktop traffic, you might have to fix some responsive issues for mobile devices. You will lose a lot of potential users if you neglect the mobile issues.

Country: Country data helps in paid ads. When you want to run a paid campaign, you would know which country or area to focus on getting maximum ROI from your campaigns.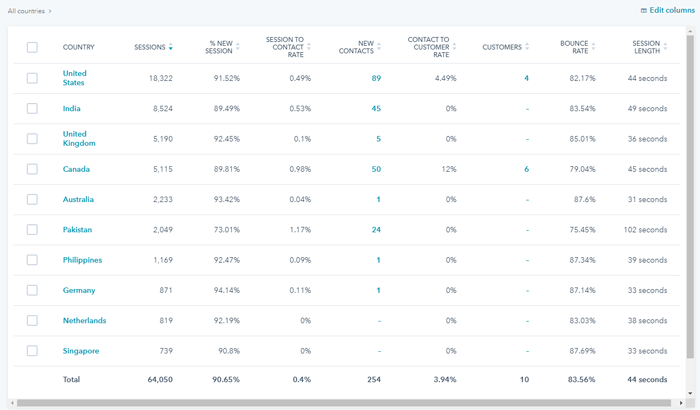 Working on the said parameters will increase your website traffic. These little things when added up make a huge impact on your website. You may not start seeing the changes in the reports all of a sudden. SEO growth is a gradual process. Also If you perform the corrections, remove issues one time, that doesn't mean you will never have to do it again.
Run a complete website SEO scan of your website through HubSpot Website Grader, see the reports and tweak the necessary changes.